Two weeks ago, five quarterbacks were provided to stay away from drafting in your fantasy leagues this season. This week, running backs are the topic. Here are five running backs to avoid drafting.
5) Derrius Guice – Washington Redskins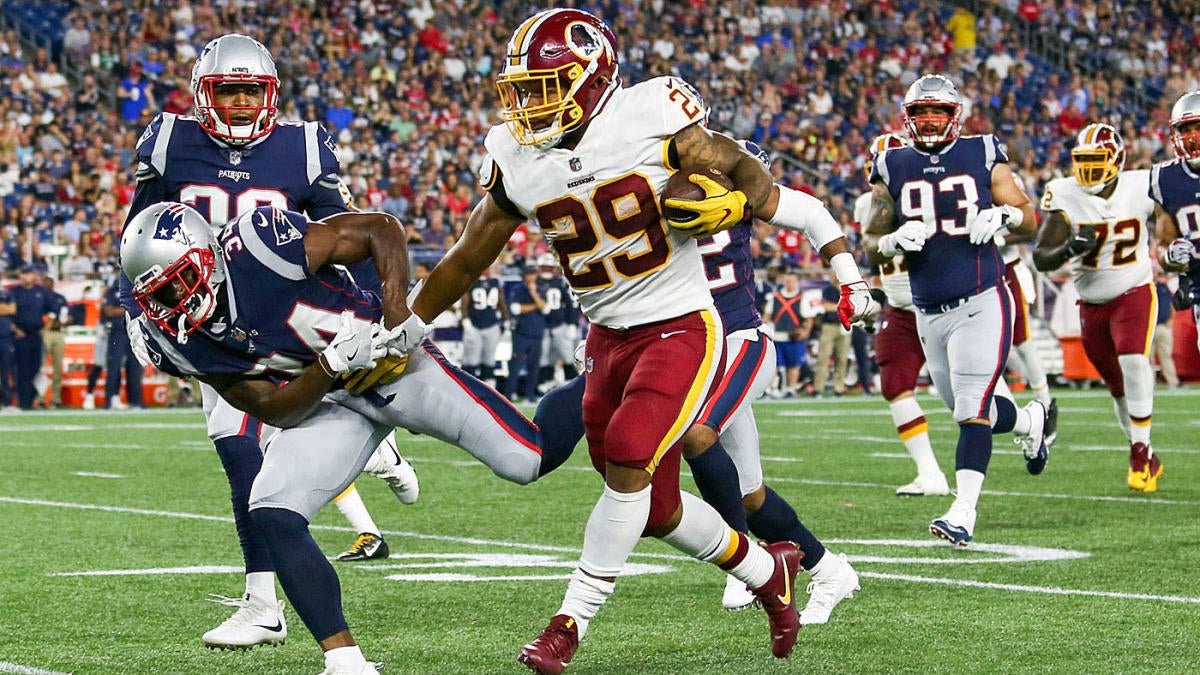 Analysis: Guice is entering his third year in the league after only playing in five games last season and none his rookie season. Injuries have set him back from having a sure chance at proving himself in this league. In 2018, the Redskins, or whatever their new name will be, selected the former LSU standout in the second round of the NFL Draft. His rookie season was cut short, in fact it was cut entirely, because of a torn ACL. Once he fully recovered, Guice joined Adrain Peterson as a co-starter to start the 2019 season. The injury bug bit again as Guice was placed on the IR with an MCL sprain after the first week. Again, Guice recovered and returned to the team in week 11. We caught a glimpse of why Washington drafted Guice once he returned. In his second game back, he rushed for 129 yards with two touchdowns in a win against the Panthers. Just three weeks later, Guice was placed on the IR once again with another MCL sprain. Washington looked to make the former second-round pick their future star running back, but the injuries forced the team to bring in more competition this offseason. They brought in J.D. McKissic, Peyton Barber and drafted Antonio Gibson in the third round. Adrian Peterson and Bryce Love are still in town as well. It would be smart to avoid drafting Guice this season. Look for Guice to get the most snaps in this running back room on a limited measure. 
Prediction: Guice rushes for 564 yards, 6 touchdowns, 14 receptions, 141 yards, 2 touchdowns. 118.5 standard NFL.com Fantasy Points. RB Rank: 31. 
4) Dolphins Running Back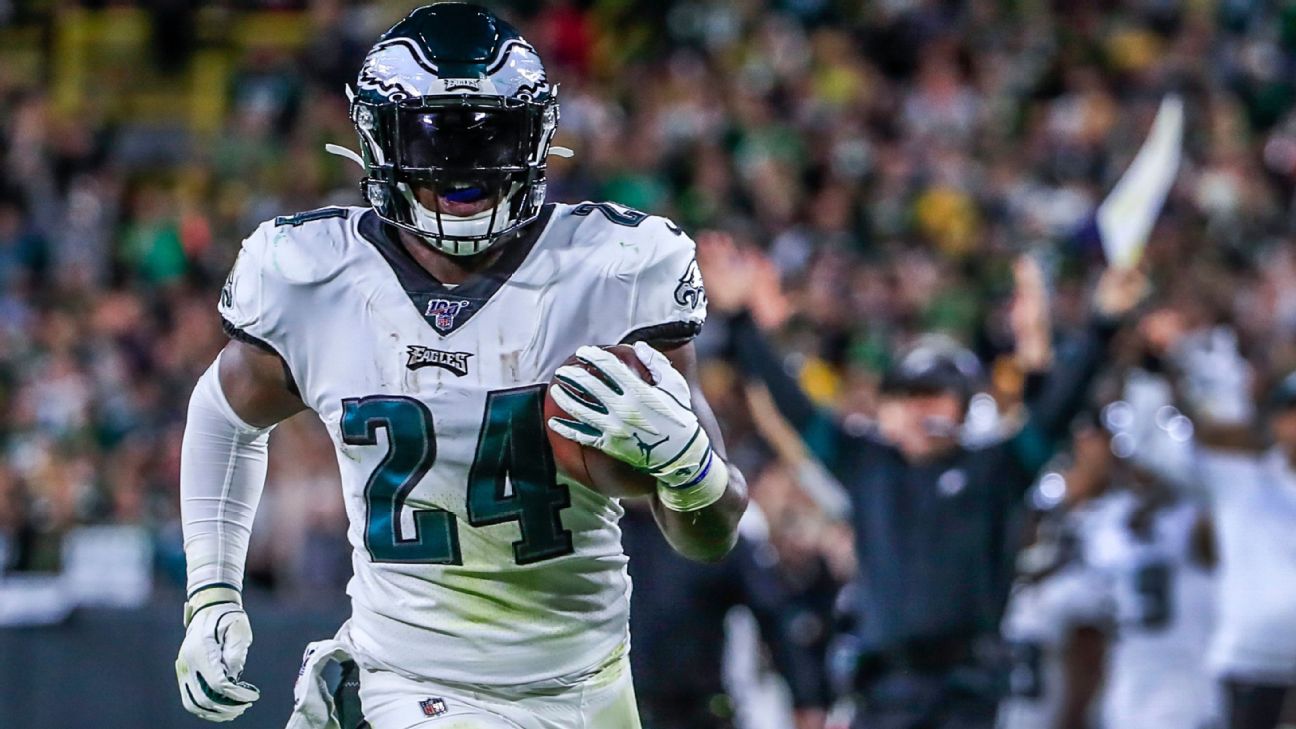 Analysis: Miami has made some interesting moves in the past year. Entering last season, it seemed like Kenyan Drake was going to get his first chance as a starting running back. For some reason, Miami limited his play and traded him midway through last season to Arizona (looks a like a star there). This offseason, Miami made it apparent they were looking to bolster their run game with the free agency signing of Jordan Howard and trading for Matt Breida. Both players were limited to their expected roles last season. Howard came in as the starting running back for the Philadelphia Eagles, but then rookie, Miles Sanders, took some of his snaps, and he eventually lost the starting spot to him. Breida, on the other hand, lost his spot to Raheem Mostert because he was simply getting outplayed. Hence, the arrival to Miami. Neither one of these players seem to have a sure edge over one another yet, but either way, they will both receive a good amount of snaps in this offense. Without a for sure number one option, it would be safe to avoid drafting any Miami Dolphins running back this season. 
Prediction: Breida rushes for 398 yards, 4 touchdowns, 23 receptions, 189 yards, 1 touchdown. 88.7 standard NFL.com Fantasy Points. RB Rank: 38. Howard rushes for 752 yards, 5 touchdowns, 15 receptions, 101 yards, 1 touchdown. 121.3 standard NFL.com Fantasy Points. RB Rank: 30. 
3) David Johnson – Houston Texans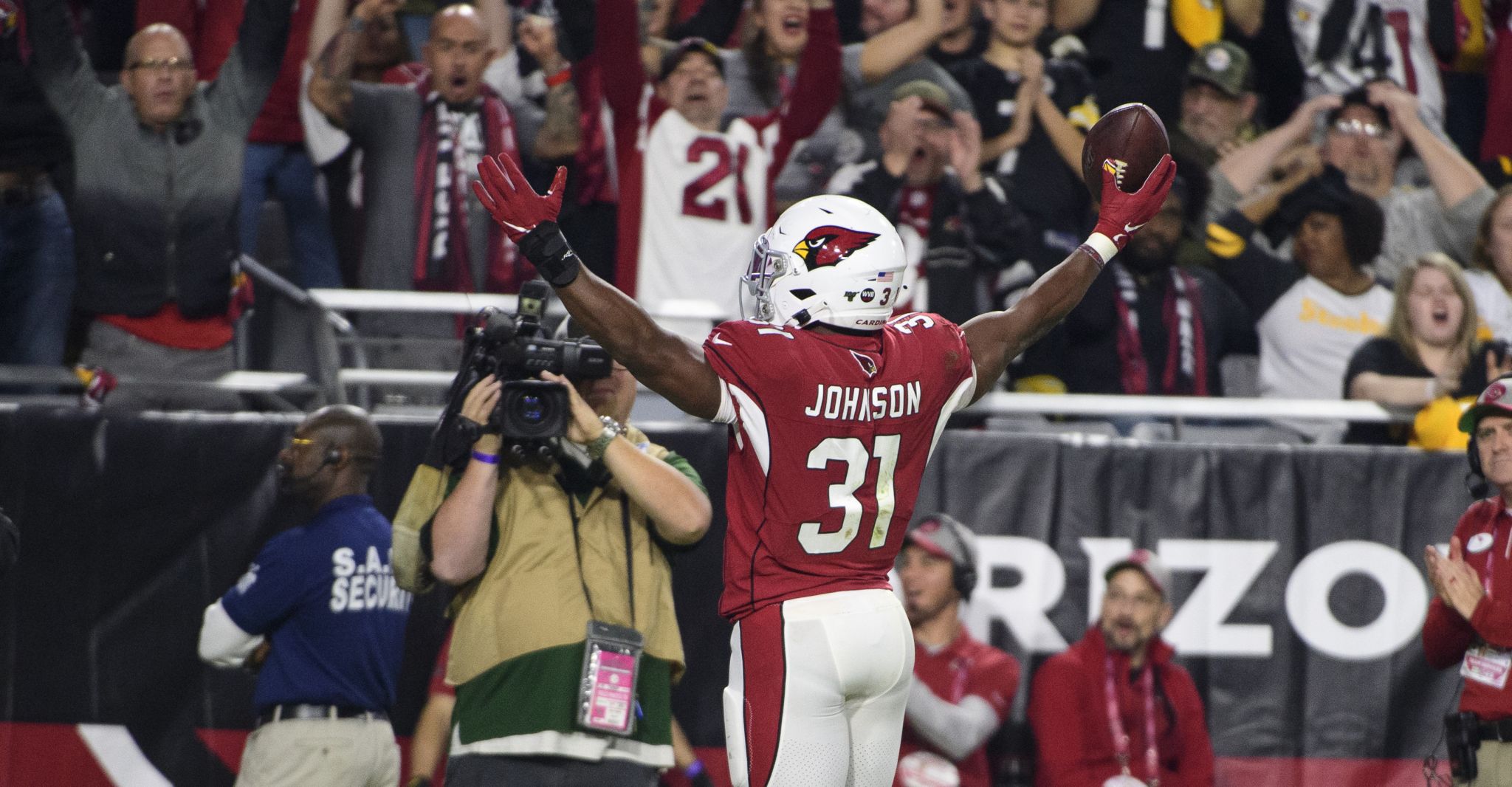 Analysis: We haven't seen David Johnson do anything spectacular since the 2016 season where he compiled 2,118 yards combined rushing and receiving with a total of 20 touchdowns. Since then, Johnson has regressed. Last season, he was replaced by Kenyan Drake as the long-term starter, but he still finished the season with 345 rushing yards, 370 receiving yards and 6 total touchdowns. This isn't anything spectacular, but it's certainly not terrible because he gets a lot of receptions and yards for a running back. He ranked 37th with 105.5 fantasy points last season. This offseason, he found a new home after he was traded to Houston in the shocking DeAndre Hopkins trade. [David] Johnson joins [Duke] Johnson as the two running backs on the top of the depth chart. [David] Johnson should see more carries than [Duke] Johnson, but he will more than likely see a decline in his receiving opportunities as [Duke] Johnson is used primarily as a receiving back. Avoid drafting [David] Johnson for now because of his recent decline in productivity, but he might be a great waiver wire addition throughout the season. 
Prediction: Johnson rushes for 640 yards, 4 touchdowns, 24 receptions, 285 yards, 2 touchdowns. 128.5 standard NFL.com Fantasy Points. RB Rank: 29. 
2) Raheem Mostert – San Francisco 49ers
Analysis: Mostert is coming off his most productive season after rushing for 772 yards, compiling 180 receiving yards and 10 total touchdowns last year. What's more impressive is that he ran for 336 yards and 5 touchdowns in last year's playoffs. After four seasons with the 49ers, Mostert requested a trade, and he is looking for either a new deal or new home before the season starts. If Mostert stays, he is not handed the starting running abck spot. San Francisco still has Tevin Coleman, and Jerrick McKinnon is coming back from a season-ending injury that held him out of last season. With a loaded running back committee, Mostert might not receive the amount of opportunities he desires. Even if he stays, McKinnon and Coleman will still get the ball a substantial amount of times throughout the season. Also, before last season, Mostert had never rushed for more than 300 yards. He had primarily been used on special teams before. Drafting Mostert is too much of a risk at this point. It would be wise to pass on him in the draft and maybe look into picking him up later in the season if he proves last season wasn't a fluke. 
Prediction: Mostert rushes for 752 yards, 6 touchdowns, 12 receptions, 143 yards, 1 touchdown. 131.5 standard NFL.com Fantasy Points. RB Rank: 28. 
1) Clyde Edwards-Helaire – Kansas City Chiefs
Analysis: Once Edwards-Helaire was drafted in the first round by Kansas City, many thought this was a dream come true for fantasy football participants. Not so fast….Damien Williams is still on this team, and he keeps getting better and better. Last season Williams averaged 4.5 yards per carry, he nearly doubled his rushing yards from the season before and he might have outplayed Mahomes in the Super Bowl (104 rushing yards, 29 receiving yards, 2 total touchdowns). Edwards-Helaire is a perfect back in Andy Reid's offense, and he might become an outstanding NFL player, but this season, he will be limited because of Damien Williams being in the locker room. Look for Edwards-Helaire to make a strong impact in the passing game as a receiving back, but he might be limited on his carries. He's also a rookie going into a season that is different than most due to COVID-19 preventing players from taking more offseason reps to learn offenses and adjust to the speed of the NFL game. In a standard league, the rookie should have decent numbers, but not amazing. In a PPR league, Edwards-Helaire should be a good waiver wire pick once he gets the feel for the Chiefs' offense throughout the season.
Prediction: Edwards-Helaire rushes for 412 yards, 4 touchdowns, 36 receptions, 453 yards, 5 touchdowns. 140.5 standard NFL.com Fantasy Points. RB Rank: 26.