This week, wide receivers are the focus for your fantasy football teams. We will take a look at five wide receivers to avoid drafting this season. These five receivers have a lot of upside, but they don't show enough promise to risk drafting. Every receiver on this list is rated out of the top 50 fantasy wide receiver options. 
5) Tee Higgins – Cincinnati Bengals
Analysis: After being selected with the first pick of the second round in this year's draft. Higgins will join a crowded receiving group. Even though Cincinnati was the worst team in the league last season, their receivers quietly performed well. John Ross, Tyler Boyd and Auden Tate all put together quality games where they led the team in receiving. Boyd surpassed 1,000 receiving yards for the second straight season. Ross and Tate both went over the 500-yard mark. There's also A.J. Green, who is easily the Bengals best player when healthy. Assuming everyone comes in healthy, Higgins isn't handed the starting position on the other side of Green. The rookie shows a lot of promise coming into the league, but he will have another rookie passing to him in Joe Burrow. Eventually, Higgins should become a great wide receiver in this league, and he should show a lot of fantasy value. But to start out the season, he will compete for snaps.
Prediction: Higgins catches 44 passes for 569 yards and 4 touchdowns. 80.9 standard NFL.com fantasy points. 
4) Allen Lazard – Green Bay Packers
Analysis: The third-year pro is coming off his best season where he caught 35 passes for 477 yards and 3 touchdowns. Coming into this season, he is projected by some to take another big leap and become Green Bay's number two option outside Devante Adams. He might become the number two wide receiver option, but Aaron Rodgers relies heavily on Adams and running back, Aaron Jones. He relies on them so much that the Packers haven't had a second wide receiver land inside the top 50 for fantasy since 2017 when Randall Cobb finished 41st. That was also Jones' rookie season. Also, Lazard has to battle for the starting spot opposite of Adams. Green Bay signed free agent wide receiver, Devin Funchess, to battle Lazard for the spot. Outside of Funchess, Green Bay still has younger talent that will take snaps away from Lazard in Marquez Valdes-Scantling and Equanimeous St. Brown. 
Prediction: Lazard catches 51 passes for 645 yards and 3 touchdowns. 82.5 standard NFL.com fantasy points. 
3) Robby Anderson – Carolina Panthers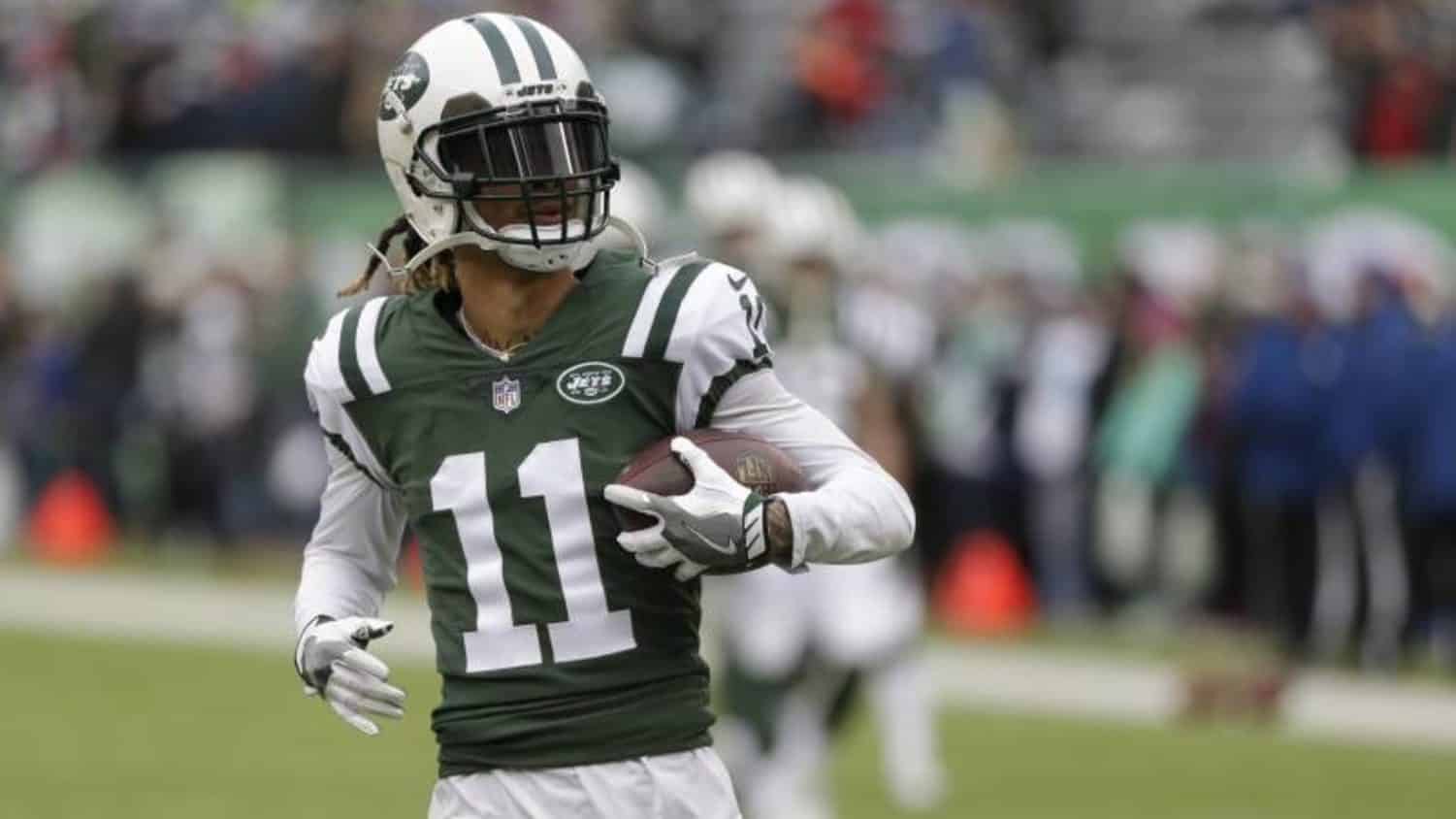 Analysis: Anderson is coming off his third straight season surpassing 750 receiving yards, but he is used to being the number one option for the New York Jets. He left New York this offseason to join the Carolina Panthers on a 2-year $20 million contract. With Carolina, Anderson could see himself as the third or fourth option. He joins a receiving group that is highlighted by D.J. Moore and Curtis Samuel. Moore finished 21st and Samuel finished 36th out of fantasy wide receivers last season, whereas Anderson finished 38th. Outside of battling for targets from the other wide receivers on the team, All-Pro running back, Christian McCaffrey will also take away some of Anderson's opportunities. McCaffrey finished last season with 116 receptions, 1,005 yards and 4 touchdowns as a receiving back. There are too many playmakers on this Panthers team for Anderson to have a huge fantasy impact this season. 
Prediction: Anderson catches 53 passes for 598 yards and 5 touchdowns. 89.8 standard NFL.com fantasy points. 
2) Emmanuel Sanders – New Orleans Saints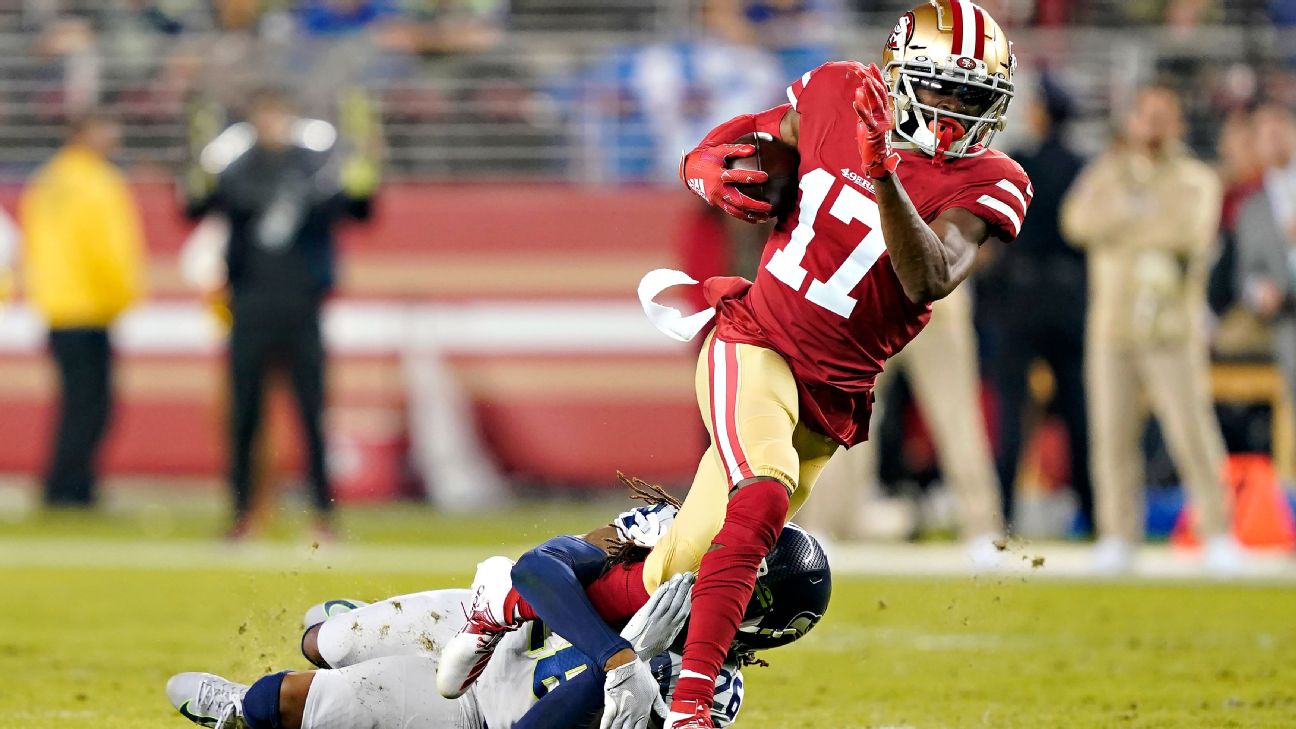 Analysis: New Orleans let their speedy receiver, Ted Ginn Jr., walk in free agency. There was a hole to fill, so the Saints went out and traded for 33-year-old Emmanuel Sanders to replace Ginn Jr. This makes a lot of sense, and it ultimately is an upgrade for the Saints and Drew Brees. On the other hand, Sanders is entering his 11th season, and he hasn't surpassed 900 receiving yards since 2016. He lacks the lightning speed he had about three or four years ago, and he joins a team that heavily relies on All-Pro wide receiver, Michael Thomas and fourth-year-pro running back, Alvin Kamara. Sanders will fill in at the slot position, but Brees and the Saints do not rely on that position much. Last season, Ginn Jr. finished 78th among fantasy wide receivers and the season before, he finished 109th. Even though Sanders finished 32nd among fantasy wide receivers last season, he will more than likely see Thomas, Kamara and Jared Cook do most of the work out of the receiving group. 
Prediction: Sanders catches 60 passes for 684 yards and 5 touchdowns. 98.4 standard NFL.com fantasy points. 
1) Brandin Cooks – Houston Texans
Analysis: Before last season, Cooks had four straight seasons with over 1,000 receiving yards, and he accomplished this with three different teams. Now with his fourth team in as many as five seasons, Cooks will look to bounce back from last season where he caught 42 passes for 583 yards and 2 touchdowns. The 26-year-old finished 61st among fantasy wide receivers, and he will more than likely finish this season around the same spot. The Texans brought Cooks in to help replace DeAndre Hopkins. The only issue for Cooks is that Houston also brought in free agent wide receiver, Randall Cobb. Will Fuller and Keke Coutee are also still in Houston. Watson has four quality wide receivers to throw to this season, but it is hard to see Cooks emerging as the main target. Watson loves Fuller, but he usually runs into injury issues. Coutee had his moments last season when Fuller was hurt, and Stills is "still" a reliable wide receiver option. Look for all four wide receivers to have their games where they lead the team in receiving, but do not expect any of them to take the league by surprise. Also, both running backs Duke and David Johnson will be used heavily as receiving backs for Watson. Avoid drafting Cooks since he is coming off his worst season as a pro and because he joins a crowded receiving crew. 
Prediction: Cooks catches 64 passes for 766 yards and 4 touchdowns. 100.6 standard NFL.com fantasy points.