Welcome to a new series where I, Isaac Dirrim, will rank the incoming rookies' fantasy values for the 2021 season before the NFL Draft. This week, we will be looking at the Quarterback position. Make sure to stay tuned for Running Back, Wide Receiver, and Tight End rankings in the next couple of weeks.
1) Trevor Lawrence – Clemson University
Projection: Starter for the Jacksonville Jaguars 
Outlook: Look, obviously Lawrence is going number one. He's been the surest thing to the "obvious" top pick since Andrew Luck was drafted by Indianapolis. The kid has all the tools to become a legitimate starter in the NFL for years to come. He's also a sure starter in Week 1. Unless the injury bug gets to him, Lawrence should see the field for all 17 games this season. He's also going to play for a team that will look to develop him as fast as they can. Don't be surprised if he puts up similar numbers to what Justin Herbert did last season. 
Prediction: 17 Games Played 
Passing: 4,144 passing yards, 32 touchdowns, 14 interceptions
Rushing: 144 rushing yards, 2 touchdowns
2) Justin Fields – Ohio State 
Projection: Starter for the Carolina Panthers
Outlook: The Panthers want to move on from Teddy Bridgewater. There are also rumors that Fields could slip in the 2021 draft (circulating rumors that he is the last one in and the first one out of the locker room). Who knows if these rumors are true, but it seems like someone slips every year. Falling to the eighth pick doesn't seem too far-fetched. If he were to be drafted by Carolina, he would easily be the starter for Week 1. 
Prediction: 17 Games Played
Passing: 3,653 passing yards, 26 touchdowns, 16 interceptions
Rushing: 314 rushing yards, 3 touchdowns 
3) Zach Wilson – BYU
Projection: Starter for the New York Jets
Outlook: Wilson made a lot of noise at his Pro Day, and some of his throws were miraculous. New York is obviously not sold on Darnold being their Quarterback for the 2021 season. There's a lot of noise that the Jets want to move on, and the consensus pick would be Wilson second overall. Robert Saleh will more than likely let his new rookie Quarterback be the focal point of his offense. Corey Davis, Keelan Cole and Tevin Coleman will bring more identity to this team as well. Don't be surprised if Wilson starts every game in 2021. 
Prediction: 17 Games Played 
Passing: 3,611 passing yards, 24 touchdowns, 12 interceptions 
Rushing: 191 rushing yards, 2 touchdowns 
4) Trey Lance – North Dakota State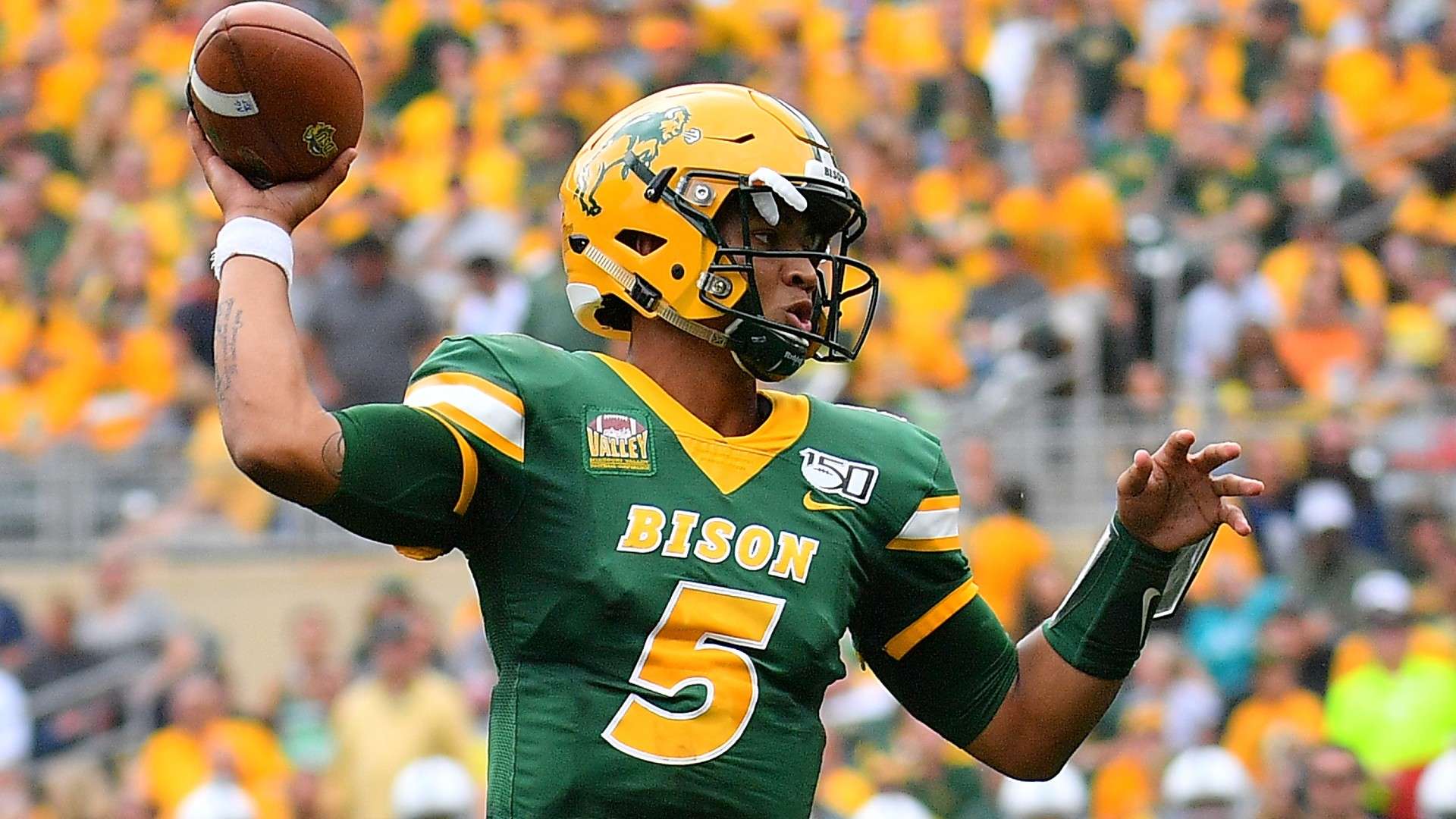 Projection: Backup for the San Francisco 49ers
Outlook: There's a reason why San Francisco traded up to select the third overall pick in this year's draft: THEY WANT TO, AND WILL, DRAFT A QUARTERBACK! John Lynch has already informed the public that Jimmy G will be their starter next season. Lance would be the perfect Quarterback to redshirt now and grow under Garoppolo's wing for a season. This kind of sounds like the Patrick Mahomes situation with Kansas City. Doesn't it? 
Prediction: 4 Games Played (Garoppolo does have an injury history) 
Passing: 808 passing yards, 4 touchdowns, 2 interceptions 
Rushing: 197 rushing yards, 1 touchdown 
5) Mac Jones – Alabama 
Projection: Backup for the New England Patriots 
Outlook: Jones has been all over recent mock drafts. Here's what we know: the 49ers are interested, but why would they trade up for a player that wouldn't have gone in the top 5 anyways? We also know that Bill Belichick and the Patriots are in need of a future Quarterback. Cam Newton is more than likely their starter in 2021, but this doesn't mean he will be in 2022, or even 2023. Jones is the perfect fit in New England, and he could use a redshirt season to learn from Newton. 
Prediction: 2 Games Played 
Passing: 372 passing yards, 2 touchdowns, 1 interception 
Rushing: 4 rushing yards 
Notable Mentions:
Kyle Trask – Florida
Projection: Backup for the Pittsburgh Steelers
Kellen Mond – Texas A&M
Projection: Backup for the Washington Football Team 
Did you enjoy this article and want more fantasy content? Make sure to check out my recent posts, and stay tuned for other positional rankings in the future. You can also follow me on Twitter @dirrim23, where I love talking about all things fantasy football!