Another Sunday has come and gone and another entertaining weekend of the AFC West football has passed. The biggest story in the league coming into the weekend was the controversy surrounding former HC of the Las Vegas Raiders, Jon Gruden, who resigned due to the discovery of unacceptable emails between him and other NFL officials. All eyes were on the Raiders this weekend, and they were unfazed in the spotlight. HC Andy Reid and the Chiefs are beginning to get things rolling, while QB Justin Herbert had his first bad game as a professional as the Chargers got beat up in Baltimore. Denver, unfortunately, was on the wrong side of a motivated Las Vegas team. Let's see how the AFC West division  is shaping up after six weeks.
Denver Broncos vs. Las Vegas Raiders
In a battle for second place in the division, the Raiders traveled to Mile High Stadium in Denver to take on the Broncos. Heading into this matchup, the Broncos were 3-2 and hoping to get back to the early-season success they were having. Although QB Teddy Bridgewater threw for 334 yards and three touchdowns, he also had three interceptions. Two of them were in the last seven minutes of the fourth quarter, which just adds to the disappointment. TE Noah Fant, however, continues to improve as he reeled in nine catches on eleven targets for 97 yards receiving and a touchdown.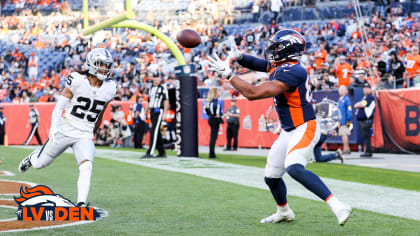 The backfield duo of RBs Javonte Williams and Melvin Gordon combined for 103 yards rushing but they could not record a single touchdown, so their effort ultimately was not enough to outscore QB Derek Carr and the Raiders offense. The Las Vegas defense only allowed 10 points through the first three quarters of this game, which led to an interesting fourth quarter, a thing that QBs don't seem to mind these days! If you watch some of these games, you'll see a team that's down by two or more scores but the QB just comes in and throws for 150 yards and three touchdowns in the last eight minutes of the game to win it (for example, Chargers vs. Browns in Week 5)! This is something we're coming to expect of great play-callers, but Bridgewater fell short this week in his attempt to do so. DE Carl Nassib racked up three sacks and S Tre'von Moehrig, S Johnathan Abram, and CB Brandon Facyson all were receivers of Bridgewater's interceptions.
On the offensive for Las Vegas, Carr led the team with 341 yards through the air and two touchdowns on only 18 completions! The team will continue to lean on the shoulders of Carr, who has shown flashes of stardom but has yet to take the next step. RB Josh Jacobs picked up 16 carries this week as he looks to return his productiveness from last season. He added 53 yards rushing on those carries as well as a touchdown, and he also had two receptions for 39 yards and a 29-yard TD reception. The Broncos defense gave up the most points all season in Sunday's loss (34) while also losing their second-leading tackler for the season, as LB Alexander Johnson suffered a torn right pectoral muscle. It's back to the drawing board for the 3-3 Broncos and, in the meanwhile, the Raiders are just determined to keep winning. Final Score: 34-24, Raiders.
Next Games: Denver Broncos @ Cleveland Browns, Thurs. 8:20 PM ET, Las Vegas Raiders vs. Philadelphia Eagles, Sun. 4:05 PM ET.
Kansas City Chiefs
The 2019 Super Bowl champions went to the capital of the U.S. to take on the Washington Football Team. In what was a highly-needed win for the Chiefs, the defense played better but still allowed 267 yards to an underwhelming Washington offense. However, CB L'Jarius Sneed recorded a fumble recovery and DT Tershawn Wharton snagged an interception, giving Kansas City two turnovers and helping QB Patrick Mahomes recover from his two picks in the first half. The defense did not give up a single score in the second half of the contest.
On the offensive side of the ball for the Chiefs, Mahomes struggled in the first half after throwing two interceptions without having any touchdowns. Mahomes came out of the locker room with a vengeance, finishing the game with 397 yards and two touchdowns, one to his favorite target, WR Tyreek Hill, and the other to WR Demarcus Robinson to cap off the victory. Will Mahomes stay hot for the Chiefs heading into Tennessee? With 1/3 of the season done, Kansas City has a lot of work to do to win the AFC West as they sit at 3-3. Final Score: 31-13, Chiefs.
Next Game: Kansas City Chiefs vs. Tennessee Titans, Sun. 1:00pm ET.
Los Angeles Chargers
HC Brandon Staley has taken the league by storm with his high-risk, aggressive play-calling, but it wasn't enough on Sunday as the Chargers lost big to the Baltimore Ravens. After not punting in consecutive drives AT ALL last week, LA punted in the first THREE drives on offense, which we're not used to seeing from QB Justin Herbert. At his age, Herbert has the most 300-yard games than anyone else, which makes this all the more shocking. He finished the day with 195 passing yards and only one touchdown (as well as two carries for 12 yards), which is a first for the second-year man from Oregon. The running game was non-existent as well for the Chargers, as the Ravens held them to a total of 26 rushing yards, which left all of the pressure on the QB's shoulders. Veteran WR Keenan Allen was also held in check, with only five receptions for 50 yards, as well as deep-ball threat WR Mike Williams, who only caught two balls for 27 yards. The Chargers went 3-for-12 on third downs and 1-for-4 on fourth downs, making it exceptionally hard for OC Joe Lombardi to open up the playbook. With all of the talent this offense possesses, they will have to figure out the problem during the upcoming bye week because the parts are there for them to be successful.
With linebackers Kenneth Murray and Drue Tranquill out this week, QB Lamar Jackson had a field day with this now-struggling defense. It was apparent, as TE Mark Andrews led the team in receiving (five), but especially so in the running game (187 yards total and three TDs on 38 carries). The interior D-line was beaten up all day and, seemingly, the biggest weakness in the defense was exposed during the blowout. We know the secondary is in good hands with S Derwin James and rookie CB Asante Samuel Jr., but can the Chargers shore up the rest of the unit? As we all know, "defense wins championships", and if they want to remain a top contender, they'll need to prove that Herbert doesn't have to do it by himself every week. Notably, Chargers kicker Tristan Vizcaino missed a PAT for the second consecutive week, leaving yet another question mark for Staley and LA to answer. Final Score: 34-6, Ravens.
Next Game: BYE week.
Sources
https://www.espn.com/nfl/matchup?gameId=401326411
https://www.espn.com/nfl/boxscore/_/gameId/401326417
https://www.espn.com/nfl/boxscore/_/gameId/401326419
Injuries: a) https://www.cbssports.com/nfl/teams/DEN/denver-broncos/injuries/, b) https://www.cbssports.com/nfl/teams/LV/las-vegas-raiders/injuries/, c) https://www.cbssports.com/nfl/teams/KC/kansas-city-chiefs/injuries/, d) https://www.cbssports.com/nfl/teams/LAC/los-angeles-chargers/injuries/
News: a) https://www.profootballrumors.com/denver-broncos-news-rumors, b) https://www.profootballrumors.com/oakland-raiders-news-rumors, c) https://www.profootballrumors.com/kansas-city-chiefs-news-rumors, d) https://www.profootballrumors.com/san-diego-chargers-news-rumors
Edited By: Rupayan "Abs" Samanta.