Week 2 is upon us! Whether you started the season rolling to a (1-0) record or you find yourself outside the win column, you need to pay attention to this article. We need to make sure we dig into every one of our players' matchups. There are good players with bad matchups this week, and there are some players you simply can't bench. Let's continue to stay sharp and create the best starting lineups that we can. Good luck, and happy FANTASYING. 
Quarterbacks
Start 'Em: 
Baker Mayfield (vs HOU)

Mayfield is a great streaming option this week, and if you don't have one of the top-tier QBs on your roster, you may want to slip him into your starting lineup. Houston is expected to have one of the worst pass defenses in the league this season, and they are coming off a Week 1 win where they allowed rookie Trevor Lawrence to surpass 300 passing yards. 
Tom Brady (vs ATL)

Brady impressed mightily in his Week 1 performance against the Cowboys last Thursday. He served as the QB5, and he should push for another top-5 finish this week as well. In his two games against Atlanta last season, he served as the QB11 and the QB4 respectively, scoring at least 23 fantasy points in each. It also helps that Atlanta allowed the most passing yards in the league last season. In Week 1, Jalen Hurts scored just over 28 fantasy points, as he finished as the QB7 against the Falcons. 
Other Notables: Mac Jones (at NYJ), Teddy Bridgewater (at JAX), Matthew Stafford (at IND)
Sit 'Em:
Jared Goff (at GB)

Although Goff turned in a solid Week 1 outing against the 49ers last week (29.9 points), don't expect the same from him against the Packers. The majority of his points came in the fourth quarter when the game was already out of reach. Expect more from D'Andre Swift and Jamaal Williams on the ground against a poor Packers run defense on Monday night. 
Joe Burrow (at CHI)

Burrow was solid last week against a poor Vikings secondary, and he has an opportunity to continue his success this week against Chicago. BUT it's hard to imagine the Bears' secondary allowing big plays left and right for the second straight week. If the second-year pro puts together another solid outing, next week is the week you should really think about starting him. 
Other Notables: Jimmy Garoppolo (vs PHI), Tyrod Taylor (at CLE), Ben Roethlisberger (vs LV)
Running Backs
Start 'Em: 
Damien Harris (at NYJ)

New England loves to rely on their running game. And I expect the Patriots to keep the Jets in check throughout. This means they will more than likely be ahead, as they run their way to the finish line. Harris is coming off a Week 1 performance where he turned 23 carries into 100 rushing yards. He's clearly the workhorse back for this team. 
Elijah Mitchell (at PHI)

Once Raheem Mostert went down with a knee injury last week, Mitchell turned into Kyle Shanahan's workhorse. Good luck finding him in free agency in any leagues out there. He should continue to be the RB1 for San Francisco, and for those of you that believe in Trey Sermon, think about it. He was a healthy scratch for a reason in Week 1. Go ahead and ride the hot hand, as he draws a good matchup against an Eagles team that allowed over 100 rushing yards in the first quarter alone last week. 
Other Notables: Jamaal Williams (at GB), Najee Harris (vs LV), Chris Carson (vs TEN)
Sit 'Em: 
Devin Singletary (at MIA)

It's still the same song and dance for the Bills RBs. Zack Moss was a healthy scratch last week, and Singletary had every opportunity to be fantasy-relevant. He played well and produced 72 rushing yards on 11 carries. He also hauled in three receptions for eight yards. But that's not going to cut it in fantasy football. With a tough matchup this week against Miami, keep him on your bench for now. 
Mark Ingram (at CLE)

Ingram received 26 carries last week, the most since his 2014 season. He served as the RB18 in PPR leagues, and he accumulated 85 yards and a touchdown on the ground. It's safe to say that he will likely receive the bulk of carries for this team, but Cleveland should have their way this week. Expect the Texans to play from behind for most of the game, which will limit Ingram's rushing opportunities. 
Other Notables: Mike Davis (at TB), Tevin Coleman (vs NE), Tony Pollard (at LAC)
Wide Receivers
Start 'Em: 
Mike Evans (vs ATL)

Antonio Brown and Chris Godwin combined for 14 receptions for 226 yards and two touchdowns last week against Dallas. Evans, on the other hand, only produced three receptions for 24 yards, as he finished as the WR80 in PPR leagues. Don't expect the same this week as Evans is known for having a successful track record against the Falcons. In the two games he lined up against Atlanta last season, Evans hauled in a combined nine receptions for 156 yards and 24.6 PPR points. There's no way he will see a small role again for the second straight week. 
Mike Williams (vs DAL)

This may be the season we finally see consistent production from the freakishly athletic wide-out. Williams produced in a big way last week, as he hauled in eight of 12 targets for 82 yards and one touchdown. Now that Justin Herbert is known for being one of the biggest up-and-coming stars at QB, Williams should solidify himself as a true WR2 in this league. He should continue where he left off from last week, as Dallas comes into this matchup surrendering 379 yards passing last week. 
Other Notables: Diontae Johnson (vs LV), Ja'Marr Chase (at CHI), Sterling Shepard (at WAS)
Sit 'Em: 
Michael Pittman Jr. (vs LAR)

Pittman Jr. struggled last week (three receptions for 29 yards). His Week 2 matchup against Jalen Ramsey and the Rams doesn't look like a promising one either. Both Jonathan Taylor and Nyheim Hines saw more targets than him in Week 1. Don't be surprised if this happens again against the Rams' outstanding defense. They limited Allen Robinson to 35 receiving yards last week. 
Brandon Aiuyk (vs PHI)

I don't care if Aiuyk tops 100 yards this week. He can't be trusted after producing a whopping goose egg (0 fantasy points) against Detroit. It's concerning that Trent Sherfield lined up on the field more than Aiyuk did. There may be something going on that we don't know about. For now, be safe, and watch and see how he does this week before thinking bout starting him again. 
Other Notables: Lions' WRs (at GB), D.J. Chark (vs DEN), Nelson Agholor (at NYJ)
Tight Ends
Start 'Em: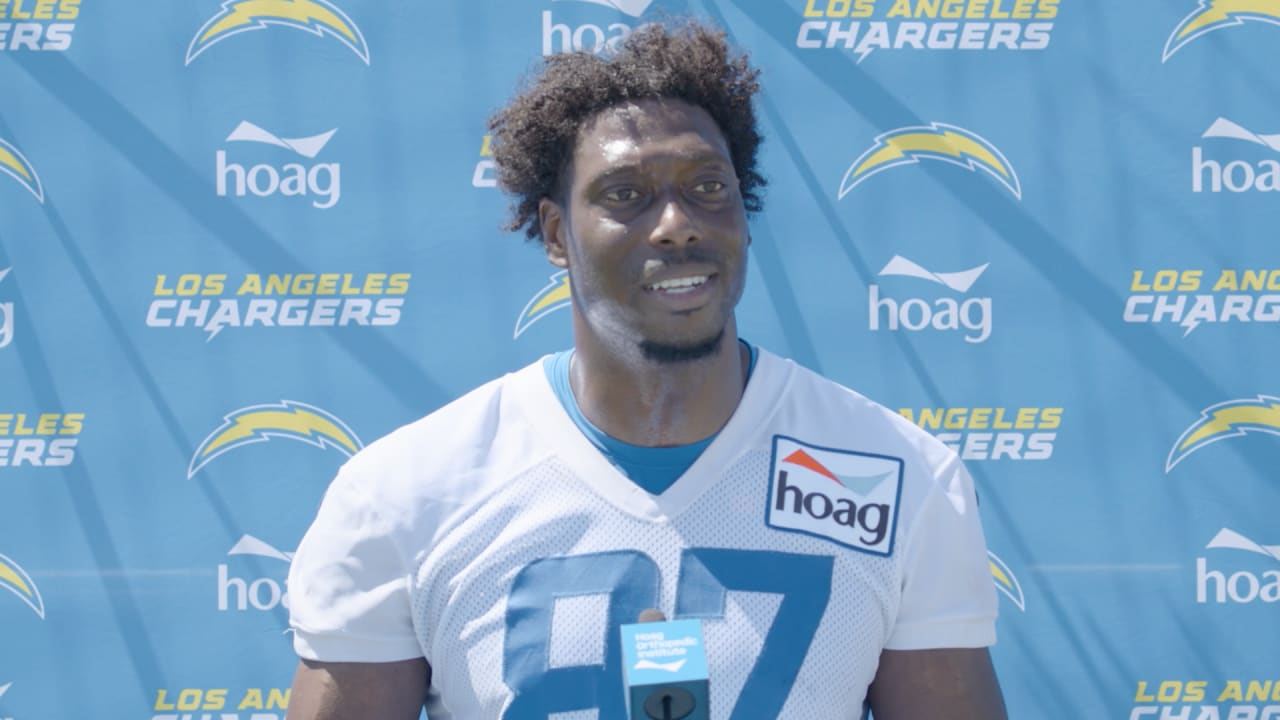 Jared Cook (vs DAL) Cook played well last week as he turned eight targets into five receptions for 56 yards. He should serve as the likely third or fourth option for Herbert throughout the season. The 34-year-old lines up against a Dallas defense that's fresh off a game where they allowed Gronkowski to serve as the TE1. 
Rob Gronkowski (vs ATL)

Speaking of the Week 1 TE1, Gronk will look to continue his fantasy dominance against an abysmal Atlanta defense. They surrendered six receptions for 76 yards and a touchdown to the TE position last week. He should be worthy of a start unless you have Travis Kelce, George Kittle, or Darren Waller.
Other Notables: Robert Tonyan (vs DET), Tyler Higbee (at IND), Noah Fant (at JAX)
Sit 'Em: 
Mike Gesicki (vs BUF)

Gesicki found himself on the "start 'em" section last week, and there's no way I'm falling for that again. He accumulated ZERO receptions for ZERO yards and ZERO fantasy points! He can't be trusted as he has another tough matchup this week against Buffalo. 
Juwan Johnson (at CAR)

For all of you Johnson lovers out there, take a step back and relax. He did score two touchdowns, but he only lined up for 12 plays (19 percent snap count). Both Garrett Griffin (17 snaps) and Adam Trautman (51 snaps) earned more playing time. It also doesn't help him in the fact that Carolina allowed only 48 total receiving yards to the TE position last week. 
Other Notables: Gerald Everett (vs TEN), Anthony Firkser (at SEA), Zach Ertz (vs SF)
Defenses
Start 'Em: 
Denver Broncos (at JAX)

The Broncos' defense produced eight fantasy points last week against the Giants, and they should continue their good play against a Jaguars team that's lost 16 straight games. Trevor Lawrence gave up three interceptions last week, and with a matchup against a great Denver secondary, he's bound to throw a couple of more. 
New England Patriots (at NYJ)

Do you know how successful Bill Belichick is against rookie QBs? As New England's head coach, he's 21-6, and his defense went 1-1 last season against rookie signal-callers, intercepting three passes. The Jets' offense is very lack-luster, and New England should have no problem scoring at least 10 fantasy points this week. 
Other Notables: Green Bay Packers (vs DET), Cleveland Browns (vs HOU)
Sit 'Em: 
Baltimore Ravens (vs KC)

Baltimore draws another tough matchup this week, as they host one of the best offenses in football on Sunday night. Remember what my rule is? NEVER START THE DEFENSE PLAYING THE CHIEFS. It doesn't matter who you are. Stopping Patrick Mahomes, Tyreek Hill, and Travis Kelce is nearly impossible these days. 
Indianapolis Colts (vs LAR)

We all saw last week how great the Rams offense is with Matthew Stafford now as their starting QB. They turned on the jets and scored 34 points on a decent Bears defense last Sunday night. Indianapolis' defense looked a little shaky last week against Seattle. They finished tied for the D/ST19 of the week, and they could finish even lower in Week 2. 
Other Notables: Philadelphia Eagles (vs SF), Los Angeles Chargers (vs DAL)
Did you enjoy this article and want more fantasy content? Make sure to check out my recent posts, and stay tuned for other positional rankings in the future. You can also follow me on Twitter @dirrim23, where I love talking about all things fantasy football!