If you are struggling with your fantasy roster entering Week 4, THERE IS STILL PLENTY OF TIME TO TURN YOUR TEAM AROUND! This has been a weird fantasy season thus far, and some players have underperformed mightily (*cough cough Tyreek Hill, Allen Robinson, Robby Anderson). You need to pay attention to the players below, as there are a ton of great matchups for players that have been hard to start. On the other hand, some players have been producing consistent numbers, but their Week 4 matchups aren't worth placing them into your starting lineups. Good luck, and happy FANTASYING. 
Quarterbacks
Start 'Em: 
Matthew Stafford – Los Angles Rams (vs ARI) At this point, it's safe to say that Stafford could serve as your team's QB1 the rest of the way. In a bad matchup (on paper) against the Tampa Bay Buccaneers last week, the veteran signal-caller posted 29.5 fantasy points (his highest of the season). Sure, his matchup this week looks tough as well, but HC Sean McVay has had success against the Cardinals as of late. The Rams were 2-0 against Arizona last season, and QB Jared Goff threw for 351 yards and one touchdown (104.9 passer rating) in his lone start against them last year. Imagine what Stafford could do against this team.
Derek Carr – Las Vegas Raiders (at LAC) Like Stafford above, some fantasy managers don't fully believe in Carr as a fantasy QB yet. I get it, but numbers don't lie. Through three weeks this season, Carr leads the league in passing yards (1,203), and he's serving as the QB9 thus far. Now he takes on a tough Los Angeles defense that slowed Patrick Mahomes down last week. Take that with a grain of salt. Carr becomes the fourth QB in the Super Bowl era to throw for at least 1,200 yards through the first three weeks of the season. Start him, and don't look back.
Other Notables: Kirk Cousins (vs CLE), Baker Mayfield (at MIN), Joe Burrow (vs JAX)
Sit 'Em:
Teddy Bridgewater – Denver Broncos (vs BAL) Bridgewater has been a great streaming option at QB through the first three weeks of the season. But look at his matchups (Giants, Jaguars, Jets). This week will be the true test to see whether or not he will be a consistent fantasy QB for the rest of the season. Baltimore has been disappointing against fantasy QBs this season (18th-ranked), but this matchup is too scary to rely on the Broncos signal-caller. Go ahead and sit him for this week, as there are too many other QBs with better matchups.
Daniel Jones – New York Giants (at NO) Jones started the season on fire before disappointing in fantasy against the Falcons last week (16.5 points). Don't expect him to bounce back this week, as the Saints have given up the second-fewest fantasy points to the QB position this season. They've yet to allow 20 or more fantasy points to a QB through three weeks, and they limited the reigning regular-season MVP, Aaron Rodgers, to an astonishing 1.3 points in Week 1. KEEP JONES OUT OF YOUR STARTING LINEUPS!
Other Notables: Jamies Winston (at NYG), Sam Darnold (at DAL), Trevor Lawrence (at CIN)
Running Backs
Start 'Em: 
Jonathan Taylor – Indianapolis Colts (at MIA) For all of you JT managers who are ready to give up on the second-year pro, DON'T!  This is how he started last season, and then he turned around and served as the RB5 through Weeks 4 and 17. The passing game isn't working out with Carson Wentz lining up under center this season. And with Miami's strong suit being their secondary, expect a ton of action from Taylor on Sunday. Marlon Mack is now seeking a trade, and the RB room will consist of a one-two punch between Taylor and Nyheim Hines. It helps that Miami has given up the second-most fantasy points to RBs this season, and they're coming off a performance where Peyton Barber turned in 111 rushing yards, one touchdown, and 23.2 PPR points against them. This is an easy one.
David Montgomery – Chicago Bears (vs DET) Outside of his great Week 1 performance against the Los Angeles Rams, Montgomery has been quiet. He's coming off back-to-back games with under 11 PPR points. You should expect him to exceed that mark this week against an atrocious Lions defense. Detroit ranks in the bottom-10 against fantasy RBs, and the third-year pro has had his way with this team throughout his young career. In four career games against the Lions, Montgomery is averaging about 83 scrimmage yards, 17.5 touches, and 14.6 PPR points a game against them.
Other Notables: Chris Carson (at SF), Zack Moss (vs HOU), James Robinson (at CIN) 
Sit 'Em: 
Mark Ingram – Houston Texans (at BUF) Two weeks ago, Ingram was one of the biggest waiver wire names on the market. Since his solid Week 1 performance (14.5 PPR points), the veteran back has yet to score more than five fantasy points in a game. With rookie Davis Mills now lining up under center, expect the Texans to trail throughout the game against Buffalo this week. The Bills have allowed the fourth-fewest fantasy points to RBs this season, and that trend should continue against an awful Houston offense in Week 4.
Mike Davis – Atlanta Falcons (vs WAS) Davis has been a consistent flex option this season, as he has yet to fall short of double-digit PPR points in a game through three weeks. But the emergence of Cordarrelle Patterson draws concerns to his fantasy stock entering Week 4. Patterson is eating into his carries a bit, and he's drawing most of the pass-catching opportunities out of the backfield. With a tough matchup against Washington this week, go ahead and bench the veteran RB. The WFT ranks seventh in RB fantasy points allowed in 2021.
Other Notables: Tony Pollard (vs CAR), Ty'Son Williams (at DEN), Giovani Bernard (at NE)
Wide Receivers
Start 'Em: 
Calvin Ridley – Atlanta Falcons (vs WAS) We've seen a trend thus far throughout this article. Fantasy players who are expected to be better than where they currently rank find themselves in the "start 'em" category a lot this week (Taylor, Montgomery, and now Ridley). Washington's defense has regressed a ton against the pass this season. And although Atlanta's air attack has been lackluster through three weeks, expect Ridley to produce at least 15 PPR points against them. Washington has given up the second-most fantasy points to his position this season, and he has received at least eight targets, respectfully, in each of his first three games this year. For those of you thinking about sitting Ridley this week, DON'T!
Odell Beckham Jr. – Cleveland Browns (at MIN) In his return from a torn ACL he suffered midway through last season, Beckham Jr. looked solid against a tough Bears defense in Week 3. He led the Browns in targets (nine) and receiving yards (77) in a game where Cleveland ran the ball 58 percent of the time. They will more than likely pass the ball more this week as Minnesota ranks 27th against the pass this season. They're also giving up the fourth-most fantasy points to WRs in 2021. And with Jarvis Landry set to miss another week, it's safe to say Beckham Jr. is a locked-in "start 'em" this week in fantasy.
Other Notables: Allen Robinson (vs DET), Corey Davis (vs TEN), Deebo Samuel (vs SEA)
Sit 'Em: 
Sammy Watkins – Baltimore Ravens (at DEN) Watkins has been "okay" in fantasy through the first three weeks of the season. He's drawn in at least seven targets in each contest, but he's only averaging about 10.9 PPR points per game. He's surely worth rostering in your fantasy leagues, but the Ravens' 2021 first-round pick, Rashod Bateman, is set to make his NFL debut this week against the Broncos. Baltimore receivers aren't ever reliable to count on in fantasy, and now that another piece of the pie in the WR room is set to be split, Watkins is a clear "sit 'em" player this week (especially against a great Broncos secondary).
Rondale Moore – Arizona Cardinals (at LAR) The fantasy world freaked out after Moore's impressive Week 2 outing (24.4 PPR points). Then reality set in when he failed to surpass three PPR points (2.4) last week. It's hard to start a player after a game where he only hauled in two receptions for one total yard. Even if you want to put him into your starting lineup oh so desperately, this is not the week to expect a bounce-back performance. The Rams have arguably the best defense in football, and they typically shut down opposing team's WRs. Wait until next week before thinking about starting him again.
Other Notables: Jakobi Meyers (vs TB), DeSean Jackson (vs ARI), Marquez Valdes-Scantling (vs PIT) 
Tight Ends
Start 'Em: 
Logan Thomas – Washington Football Team (at ATL) Thomas is averaging 11.2 PPR points per game, and he's currently the TE7 through three weeks into this season. At this point, he's a safe start in nearly every matchup. This week is especially intriguing for the veteran TE, as the Falcons are giving up the eighth-most fantasy points to his position in 2021. They are allowing an average of 13.8 PPR points to TEs per game. It's safe to predict that Thomas will score double-digit fantasy points, as he's Taylor Heinicke's second pass-catching option behind Terry McLaurin in Washington's offense.
Robert Tonyan – Green Bay Packers (vs PIT) Pittsburgh is coming off a Week 3 performance where they allowed ZERO points to the TE position. That shouldn't stop you from starting Tonyan this week against them though. Cincinnati is reluctant to use TEs in their offensive gameplan, and the Steelers allowed a combined 22.9 PPR points to TEs in Week 2. Expect Rodgers to target Tonyan heavily in the red zone this week, as he now looks like he found his rhythm again (six passing touchdowns in two weeks).
Other Notables: Dawson Knox (vs HOU), Dallas Goedert (vs KC), Tyler Higbee (vs ARI)
Sit 'Em: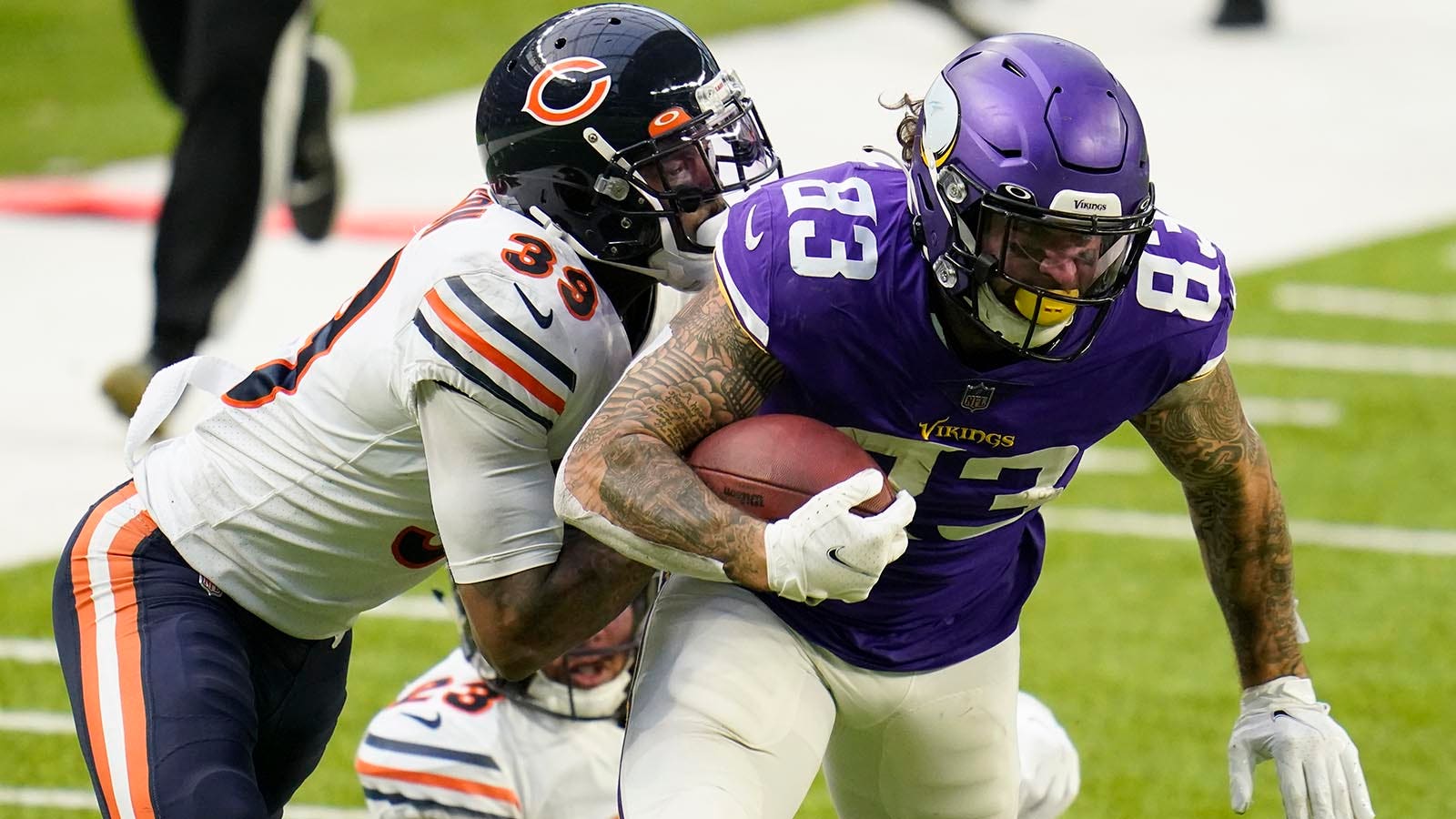 Tyler Conklin – Minnesota Vikings (vs CLE) For those of you that rushed to add Conklin to your roster, take a step back. Sure, his Week 3 performance where he hauled in seven of his eight receptions for one touchdown and 20 PPR points was very impressive. BUT his Vikings take on a Browns team that loves to own the time of possession. Last week's dominating performance isn't a true testament to how that Cleveland's defense will play each week, but it gives you a glimpse of how they defend TEs. During their last two matchups, they've allowed a combined 4.8 PPR points to Conklin's position. SIT HIM! SIT HIM! SIT HIM!
Evan Engram – New York Giants (at NO) It's now time to move on from the idea that Engram is a top-15 fantasy TE these days. After missing his first two games of the 2021 season, he posted only 2.1 fantasy points against the Atlanta Falcons last week. With Sterling Shepard, Kenny Golladay, Darius Slayton, and Saquon Barkley lining up in the same offense as him, he could serve as his team's fifth pass-catching option from here on out. It also doesn't help his fantasy stock that he is going to line up against a Saints defense that's allowing an average of about 6.7 fantasy points per game to the TE position this season.
Other Notables: Blake Jarwin (vs CAR), Pat Freiermuth (at GB), Maxx Williams (at LAR)
Defenses
Start 'Em: 
New Orleans Saints (at NYG) New Orleans draws a great matchup this week against a Giants team that struggled to score only 14 points against a terrible Atlanta Falcons defense a week ago. Daniel Jones is prone to turning the ball over, and the Saints' defense ranks first in total fantasy points amongst D/STs thus far. The crazy thing is that you could have found the Saints' defense in nearly half of fantasy leagues before yesterday morning. If you find yourself with their defense on your roster, this is an easy start for your team.
Tennessee Titans (at NYJ) It seems to never fail when you START THE DEFENSE PLAYING THE JETS. It doesn't matter if the Titans' defense ranks last in fantasy points amongst D/STs. You have to consider adding them if your starting D/ST draws a tough Week 4 matchup. The Jets have allowed at least nine fantasy points to team defenses this season (average of 15.7). They have given up the MOST fantasy points to that position this year as well. Who are you going to trust more, the worst scoring defense or the worst offense in the league? Exactly, the answer is the defense taking on the Jets.
Other Notables: Football Team (at ATL), Ravens (at DEN), Bears (vs DET)
Sit 'Em: 
Arizona Cardinals (at LAR) Arizona's defense has surprisingly been solid through three weeks into this season. They serve as the D/ST2 entering Week 4, but you should stay away from them as they take on a lethal Rams offense this Sunday. Los Angeles dismantled a good Tampa Bay defense last week, matching their season-high with 34 points in their impressive win. Expect this game to be a high-scoring contest. Don't necessarily drop Arizona yet, but don't feel confident in starting them in Week 4.
New England Patriots (vs TB) The Patriots welcome Tom Brady back to New England this Sunday night in this week's game of the week. Expect Brady to come out with a vengeance after losing to the Rams 24-34. Against arguably the best defense in football, Tampa Bay produced 446 total offensive yards against Los Angeles in Week 3. That total could jump even higher this week against a less-talented New England defense. Stay away from starting the Patriots at your D/ST spot, as there are plenty of better options at the position this week.
Other Notables: Chargers (vs LV), Broncos (vs BAL), Browns (at MIN)
Did you enjoy this article and want more fantasy content? Make sure to check out my recent posts, and stay tuned for other positional rankings in the future. You can also follow me on Twitter @dirrim23, where I love talking about all things fantasy football!