Last week, five running backs were provided to avoid drafting this season in your fantasy leagues. This week, 10 running backs have been chosen as the top candidates to draft this season. Those who just missed the cut include: Chris Carson (Seahawks), Melvin Gordon (Broncos), Austin Ekeler (Chargers), Joe Mixon (Bengals) and Todd Gurley (Falcons). 
10) Kenyan Drake – Arizona Cardinals 
Analysis: In eight games last season with Arizona, Drake rushed for 643 yards, eight touchdowns and averaged 5.5 yards per carry. He made the immediate impact Arizona had hoped for, and he looks to carry that success into the 2020 season. The 26-year-old keeps getting better and better every season. With David Johnson gone (Hopkins trade), Drake should carry the bulk of carries and he should be very effective as a receiving option as well. Last season, Drake had 50 catches for 345 yards with David Johnson taking most of his receiving reps. Look for Drake to finally break out this year in a promising offense. 
Prediction: Drake rushes for 1,097 yards, 6 touchdowns, 61 receptions, 435 yards, 1 touchdown. 195.2 standard NFL.com Fantasy Points.
9) Josh Jacobs – Las Vegas Raiders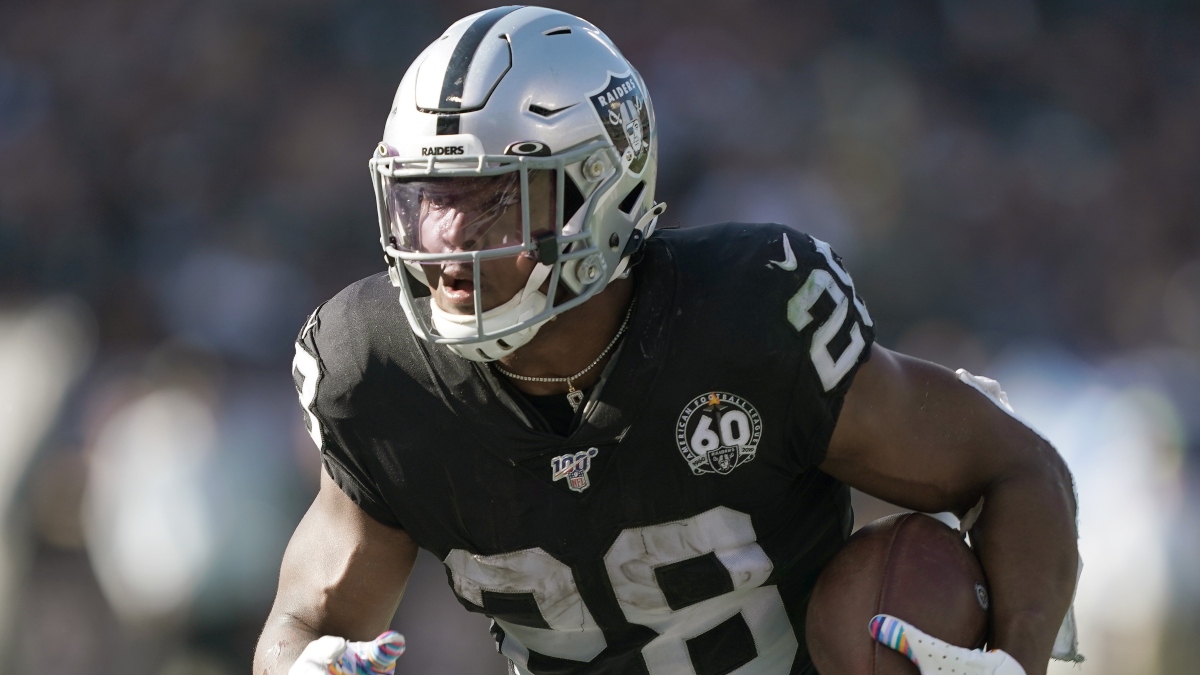 Analysis: Jacobs is entering his sophomore season in the league, and he is looking to continue where he left off last season. He finished 14th in fantasy points among running backs as a rookie last season, and he only played in 13 games. Head coach, Jon Gruden, has made it apparent that the 22-year-old is the centerpiece to this offense. He finished with 1,150 rushing yards and 7 touchdowns last season, and he should improve in his receiving numbers after working on his receiving skills this offseason. Drafting Jacobs is a smart move, and he has a high ceiling in this league. 
Prediction: Jacobs rushes for 1,234 yards, 8 touchdowns, 31 receptions, 298 yards, 1 touchdown. 207.2 standard NFL.com Fantasy Points.
8) Nick Chubb – Cleveland Browns 
Analysis: Entering his third season in the league, Chubb has already established himself as one of the best running backs. The only problem is Kareem Hunt is on the team as well. Yes, Chubb had an amazing season last year rushing for 1,494 yards and 8 touchdowns, but Hunt will receive more touches than he did last season because he has shown that he can be a dynamic player as well. Chubb will still carry the load of rushing attempts, but Hunt will be featured more as the third-and-long receiving back. Even though this will affect his season, it shouldn't hurt his value too much. The improved offensive line will help the offense tremendously. 
Prediction: Chubb rushes for 1,294 yards, 8 touchdowns, 34 receptions, 255 yards, 1 touchdown. 208.9 standard NFL.com Fantasy Points.
7) Aaron Jones – Green Bay Packers
Analysis: The 25-year-old is coming off a tremendous season after rushing for 1,084 yards, receiving 474 yards and scoring 19 total touchdowns. The addition of rookie running back, A.J. Dillon, will affect Jones' goal line touches. Therefore, he will more than likely rush for less than 16 touchdowns this season. Nonetheless, Jones is going into a contract year, so look for the talented back to be hungry this season. With the lack of quality receivers outside Devante Adams, Jones will be used heavily in the passing game, and he will be used as a workhorse this season. 
Prediction: Jones rushes for 1,048 yards, 9 touchdowns, 44 receptions, 412 yards, 2 touchdowns. 212 standard NFL.com Fantasy Points.
6) Alvin Kamara – New Orleans Saints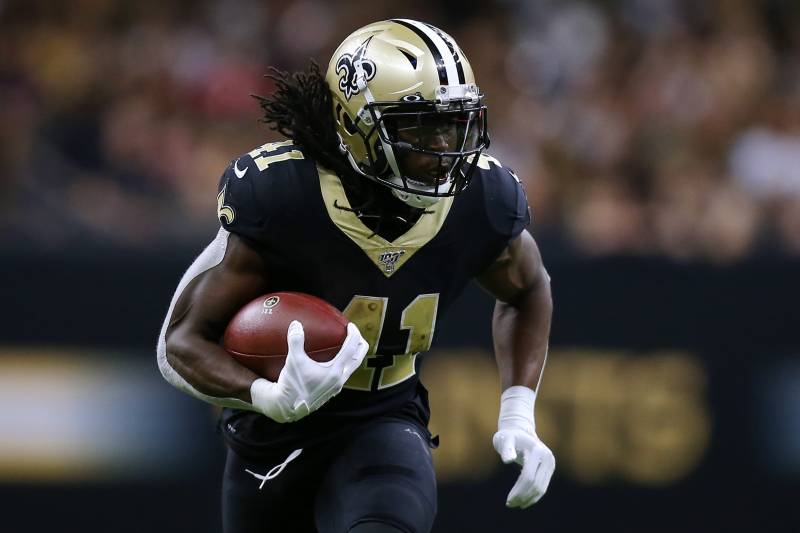 Analysis: Kamara had a somewhat disappointing season last year after battling nagging injuries throughout. This season, Kamara should be healthier, and we should see the Alvin Kamara from two seasons ago. Although he has never topped 1,000 rushing yards in his young career, he is still a great running back to have on your fantasy team because of how good of a receiving back he is. Although the injuries held him back last season, he still caught 81 passes for 533 yards. Fun Fact: Kamara has finished the season with 81 receptions all three years he has been in the league. The 24-year-old should be a great bounce-back candidate for this season. 
Prediction: Kamara rushes for 875 yards, 8 touchdowns, 81 catches (had to put this), 620 yards, 3 touchdowns. 215.5 standard NFL.com Fantasy Points.
5) Derrick Henry – Tennessee Titans 
Analysis: King Henry is coming off a tremendous season where he rushed for 1,540 yards and 16 touchdowns ranking him second among fantasy running backs. This is hard to sustain, and he surely won't put up the same numbers this season. Look for Henry to regress a little. Because he doesn't get too involved in the receiving game, he gets passed by the remaining backs on this list. Even though he sits at number five, he is still one of the most dangerous offensive weapons going into this season. Tennessee relies heavily on the play of Henry, and if he has an off year, the Titans will more than likely have an off year as well. Drafting Henry is a safe draft choice, but there are others that have more value simply because they produce good numbers in the receiving area. 
Prediction: Henry rushes for 1,382 yards, 11 touchdowns, 14 receptions, 148 yards, 1 touchdown. 225 standard NFL.com Fantasy Points.
4) Ezekiel Elliott – Dallas Cowboys 
Analysis: Through his first four seasons in the league, the 24-year-old has been one of the most consistent fantasy options at running back. Last season, he ranked fourth among running backs after rushing for 1,357 yards and catching 54 passes for 420 yards. Throughout his career, he has averaged 292 carries and 340 touches a game. He gets the ball a ton. Expect his receiving numbers to go down a little with the addition of rookie receiver, CeeDee Lamb. Although the offense will look to pass a lot this season, expect Elliott to carry the load on the ground. It is safe to say that Tony Pollard is not a threat to Elliott anymore. If there weren't so many weapons in this offense, Zeke could be higher on this list, but overall, he is a very safe draft choice. 
Prediction: Elliott rushes for 1,285 yards, 10 touchdowns, 39 receptions, 385 yards, 2 touchdowns. 239 standard NFL.com Fantasy Points.
3) Dalvin Cook – Minnesota Vikings 
Analysis: Cook is currently holding out in hopes for a new contract. Last season, the 24-year-old running back finished fifth among fantasy running backs, and he missed two games. He was the lead back for Minnesota and he received 130 more touches than the season before. He rushed for 1,135 yards and produced 519 receiving yards. Expect Cook to be used even more this season with the departure of wide receiver, Stefon Diggs. With Diggs gone, Cook could see more receptions than the season before. Although Alexander Mattison is expected to carry a larger role in this offense, he shouldn't affect Cook's numbers because of how heavily Minnesota will rely on the rushing attack this season. 
Prediction: Cook rushes for 1,274 yards, 9 touchdowns, 61 receptions, 556 yards, 2 touchdowns. 249 standard NFL.com Fantasy Points.
2) Saquon Barkley – New York Giants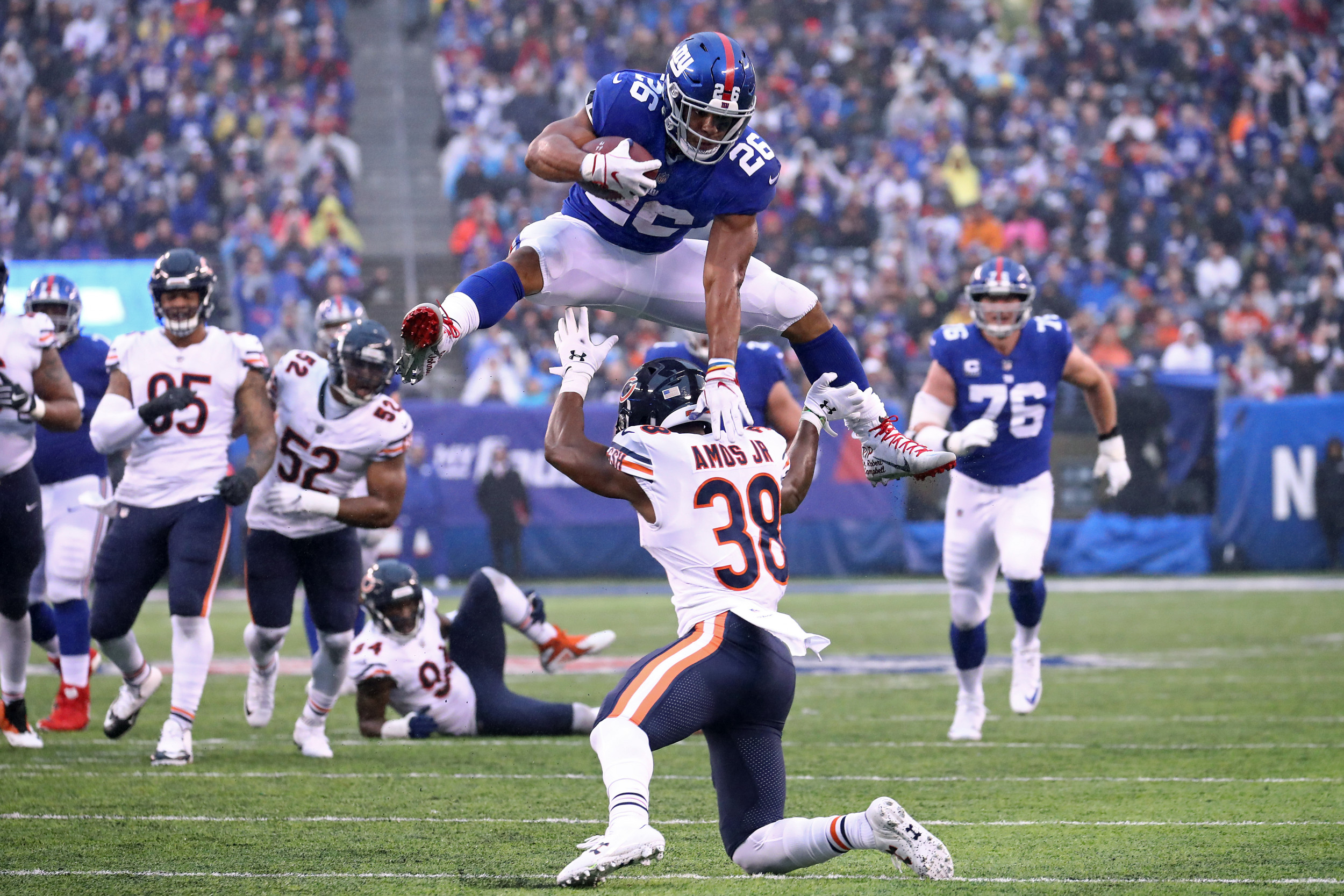 Analysis: Last season, Barkley entered the season as the clear favorite to lead all running backs in fantasy points. This was not the case as Barkley battled injuries throughout the season. The 23-year-old looks to bounce back in his second season with quarterback, Daniel Jones. This Giants offense runs through Barkley, and because there aren't many receiving threats on this team, Barkley sees a lot of targets. He will take on a large role this season as the lead back. Last season, he rushed for 1,003 yards while producing 438 receiving yards. Expect Barkley to look more like his rookie season self. He should see a big jump in both rushing and receiving yards this season. He is not far behind the man that is number one on this list. 
Prediction: Barkley rushes for 1,347 yards, 9 touchdowns, 74 receptions, 573 yards, 2 touchdowns. 258 standard NFL.com Fantasy Points.
1) Christian McCaffrey – Carolina Panthers 
Analysis: The 2019 First Team All-Pro running back is coming off a historic performance last season. He became the third player ever to rush for over 1,000 yards while topping 1,000 yards receiving as well in the same season. He joined Marshall Faluk (1999) and Roger Craig (1985) as the only players in history to do so. The 24-year-old will likely see a decline in numbers this season because for one, last year's numbers are hard to sustain, and two, Carolina's offense is going to be better. The addition of Teddy Bridgewater and Robby Anderson will help take some of the load off McCaffrey. Even though his numbers will decline, he is for sure the top running back option for fantasy going into this season. Look for McCaffrey to be the centerpiece of this offense once again. 
Prediction: McCaffrey rushes for 1,192 yards, 7 touchdowns, 88 receptions, 812 yards, 5 touchdowns. 272.4 standard NFL.com Fantasy Points.