There are some very intriguing tight end options for your fantasy teams this season. Below is a list of the top ten tight ends going into this season for fantasy football. Some notable names not on this list include: Austin Hooper (Browns), Evan Engram (Giants), Darren Waller (Raiders), Mike Gesicki (Dolphins) and Jonnu Smith (Titans). 
10) Rob Gronkowski – Tampa Bay Buccaneers
Analysis: Recently unretired Rob Gronkowski joins Tom Brady in Tampa Bay for a reunion that looks promising on paper. Gronk will more than likely see plenty of touches, but he will need to be productive in the red zone to become an every week starter in your fantasy leagues. With Mike Evans and Chris Godwin as Brady's other main targets, Gronk probably won't load the yards up. He will be used predominantly in red zone packages. Expect the likes of O.J. Howard and Cameron Brate to receive a lot of snaps outside the red zone. He's a risky pick, but Tom Brady loves him, and he will be a trustworthy passing option for Brady come week one. 
Prediction: Gronkowski catches 49 passes for 558 yards and 6 touchdowns. 91.8 Standard NFL.com Fantasy Points. 
9) Hunter Henry – Los Angeles Chargers
Analysis: Henry's fantasy numbers might rely on which quarterback will start under center this season. If Tyrod Taylor is the quarterback, Henry has a great chance at becoming one of the more consistent fantasy tight ends this season. Taylor is known to be a dink-and-dunk type of quarterback. He relies on dumping the ball down short to his running back(s), and he relies heavily on the tight end position. If rookie Justin Herbert is the starting quarterback, it will be hard telling if Henry will be heavily utilized. Either way, Henry should be one of the main red zone targets for the Chargers. He should be a safe pick because he is the second most consistent receiver on this team outside of Keenan Allen. Last season, Henry finished eighth among fantasy tight ends with 55 receptions, 652 yards and 5 touchdowns. Each season, Henry has gotten better and he usually jumps up about 10 catches and 100 yards per year. Expect that to change this season, but Henry should still be used enough to be a safe tight end drafted in your fantasy leagues. 
Prediction: Henry catches 61 passes for 728 yards and 4 touchdowns. 96.8 Standard NFL.com Fantasy Points.
8) T.J. Hockenson – Detroit Lions
Analysis: Hockenson showed glimpses of what he is capable of in this league. He started his rookie season red hot with 6 catches for 131 yards and a touchdown in week one. By the time week 12 came around, Hockenson only put up 236 more yards, one more touchdown and he was placed on IR. The loss of his starting quarterback, Matthew Stafford, early in the season didn't help. If both Stafford and Hockenson stay healthy this season, expect the second-year pro to take the second biggest leap out of any tight end. There is a reason why he was drafted eighth overall in the 2019 NFL Draft. He has a very high upside, and Stafford can make him better. Other than Kenny Golladay and Marvin Jones, there aren't a whole lot of weapons for Stafford to throw to. Expect both Jones and Golladay to receive most of the red zone targets, but Hockenson is still a dangerous weapon inside the 20-yard line. 
Prediction: Hockenson catches 64 passes for 696 yards and 5 touchdowns. 99.6 Standard NFL.com Fantasy Points.
7) Hayden Hurst – Atlanta Falcons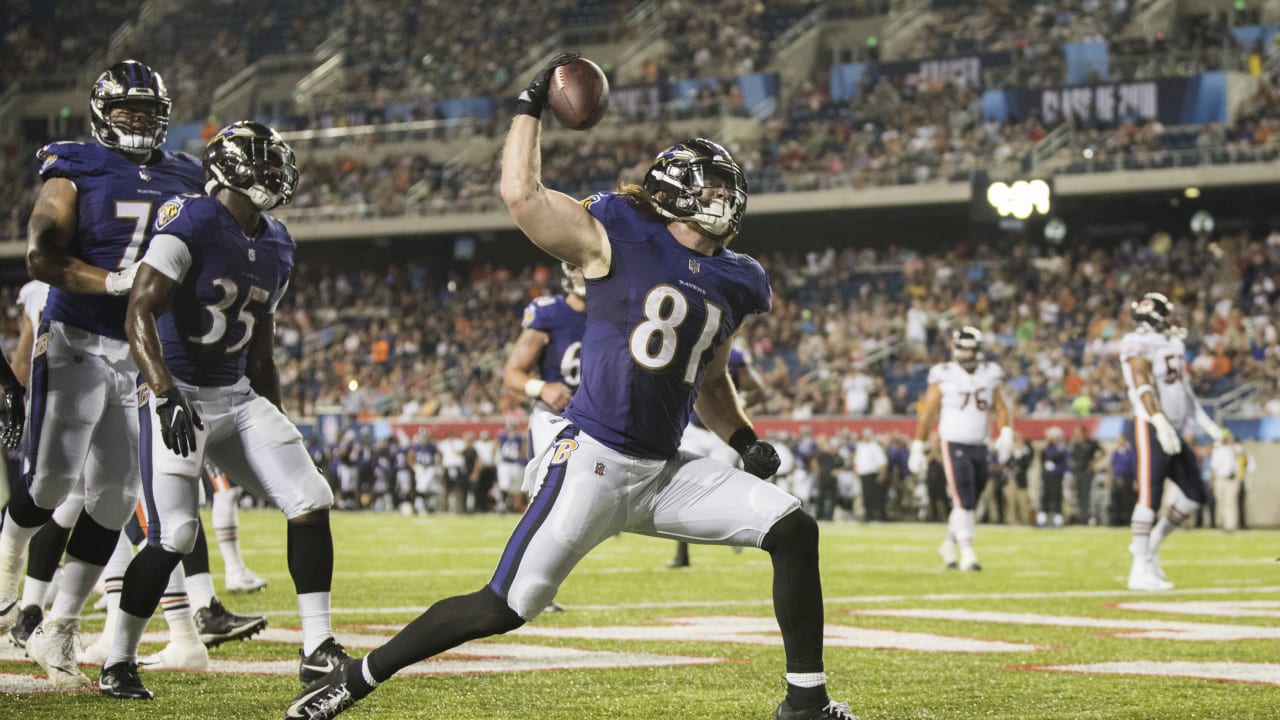 Analysis: Overshadowed by Mark Andrews last season in Baltimore, Hurst will see a much bigger opportunity this season as the starting tight end for the Atlanta Falcons. Atlanta let their former big-time tight end, Austin Hooper, walk in free agency. The Falcons then went out and traded for Hurst, who was highly valued going into the 2018 NFL Draft. Hurst was drafted by Baltimore in the first round, but unfortunately for Hurst, the Ravens also drafted Mark Andrews in the same draft. Andrews has shown that he is the tight end of the future for Baltimore, and this led to a backup position for Hurst the past two seasons. Now that he is the starting tight end for Atlanta, expect big things for Hurst. He should take the biggest leap out of any tight end this season. Atlanta's starting quarterback, Matt Ryan, loves throwing to the tight end position. This is why Hooper was so successful in Atlanta. Julio Jones and Calvin Ridley will be the main two targets, but Hurst should be a very productive tight end who sees a lot of targets inside the red zone. 
Prediction: Hurst catches 54 passes for 613 yards and 7 touchdowns. 103.3 Standard NFL.com Fantasy Points.
6) Jared Cook – New Orleans Saints 
Analysis: Finishing sixth among fantasy tight ends last season, Cook found himself as the second most effective receiver, behind Michael Thomas of course, for Drew Brees and the New Orleans Saints. Expect the same this season, even though Cook will be turning 34 years old. What separated Cook from a lot of tight ends last season was his play in the red zone. He finished tied for fourth in the league, second among tight ends, in total touchdowns last season. He produced 43 receptions for 705 yards and an amazing 9 touchdowns last year. Cook will be heavily utilized once again this season, and expect his receiving yards to dip a little with the arrival of veteran receiver Emmanuel Sanders. Nonetheless, Cook should still be the main target, outside of Thomas, in the red zone. 
Prediction: Cook catches 55 passes for 678 yards and 7 touchdowns. 109.8 Standard NFL.com Fantasy Points.
5) Tyler Higbee – Los Angeles Rams
Analysis: Higbee quietly had a very productive 2019 season. He started out the first 12 weeks of the season with just 212 yards and one touchdown. To follow, he produced four straight games with over 100 yards receiving and he finished the season with 69 receptions for 734 yards and 3 touchdowns. Higbee put up the most receiving yards from a tight end  after week 12 in the league, and he should continue where he left off this season. Do not expect over 100 yards per game, but he will be one of Goff's top targets for this season. With the departure of Brandin Cooks, it only opens up more opportunities for Higbee. The trio of Cooper Kupp, Robert Woods and Higbee will open up a dangerous air attack for the pass-happy Rams quarterback. For the 27-year-old to take the next step, he needs to be more of a weapon in the red zone. He would be even higher on this list if it weren't for the lack of touchdowns produced. Overall, Higbee is a very safe tight end to draft this year in your fantasy leagues. 
Prediction: Higbee catches 83 passes for 942 yards and 5 touchdowns. 124.2 Standard NFL.com Fantasy Points.
4) Zach Ertz – Philadelphia Eagles
Analysis: The Philadelphia standout has been one of the most consistent tight ends since he entered the league back in 2013. Has has surpassed 800 receiving yards in five straight seasons despite battling injuries that past few years. Ertz is by far Carson Wentz' favorite target, and this should continue this season. Last season, the former All-Pro finished with 88 receptions for 916 yards and 6 touchdowns, which was good enough to land him fifth in fantasy points for tight ends. The only thing holding the 29-year-old back are his injuries. He has only played a full season three times in his seven seasons in the league. On the bright side, Ertz has received over 100 targets in each of his last five seasons, so expect Wentz to look his way a great amount of times this year. 
Prediction: Ertz catches 85 passes for 984 yards and 5 touchdowns. 128.4 Standard NFL.com Fantasy Points.
3) Mark Andrews – Baltimore Ravens
Analysis: In his second year in the league, Andrews finished tied for second in receiving touchdowns with ten, first among tight ends, and he made his first trip to the Pro Bowl. In 15 games for Baltimore last season, Andrews finished with career highs in receptions (64), yards (852) and touchdowns (10). His emergence as Lamar Jackson's number one receiving option led to backup tight end, Hayden Hurst, leaving town. Expect Andrews to take another leap this season. He should see more targets, more yards and most importantly, more fantasy points. He might not finish with double-digit touchdowns again this year, but he is still a very dangerous red zone target. The duo of Jackson and Andrews should only get better following their first full season together. 
Prediction: Andrews catches 84 passes for 986 yards and 8 touchdowns. 146.6 Standard NFL.com Fantasy Points.
2) George Kittle – San Francisco 49ers
Analysis: Two seasons in a row, Kittle has surpassed the 1,000-yard mark while finishing top three in fantasy points among tight ends. Oh, and he also holds the record for the most receiving yards, in a season, for a tight end of all-time with 1,377. The fourth-year-pro is a dominating player in this league, and he is easily Jimmy Garroppolo's favorite target. With the departure of Emmanuel Sanders, and Deebo Samuel breaking his foot, Kittle could see even more targets this season. Yes, Samuel will come back eventually, but it is hard telling if he will run into a sophomore slump. Kittle will be the main target in this offense once again, and he should put up similar numbers to last season. Kittle and the guy that is number one on this list should easily be the first two tight ends taken in every fantasy draft.
Prediction: Kittle catches 91 passes for 1,136 yards and 7 touchdowns. 155.6 Standard NFL.com Fantasy Points. 
1) Travis Kelce – Kansas City Chiefs
Analysis: One of the biggest tight end superstars of his era, Kelce looks to continue his dominance this season. The 30-year-old All-Pro will look to record his fifth straight 1,000-yard season. He finished last season with 1,229 yards, 97 receptions and 5 touchdowns. This ranked him first among all tight ends in fantasy football, and he has finished first in fantasy points for tight ends two seasons in a row, and three out of the last four! When he didn't land the top spot in 2017, he still finished second. Yes, Kittle is the closest player to his level for tight ends, but it's hard placing Kittle above Kelce when you look at this man's track record. And, if Patrick Mahomes is his quarterback, it's a safe bet that he will continue to put up terrific fantasy numbers. 
Prediction: Kelce catches 100 passes for 1,248 yards and 7 touchdowns. 166.8 Standard NFL.com Fantasy Points.