COVID-19 has caused a lot of concern from players regarding their safety this year. There is a list of players that have opted out of playing this season in concern with the virus. The opt-outs hurt the teams they play for and their depth at that particular position. On the other hand, some players will benefit from the opt-outs because they will receive more of an opportunity to make plays on the field. Below are five players that will benefit from the opt-outs. Essentially, these players now have higher fantasy value going into the 2020 season.
1) N'Keal Harry
Analysis: About a year ago today, Harry was the first Patriots wide receiver to be selected in the first round since Terry Glenn in 1996. He followed with a disappointing rookie season where he battled injuries and only produced 12 catches for 105 yards and 2 touchdowns. The second-year-pro is looking to improve drastically this season as he is slated to start, in the first depth chart, with Julian Edelman and Mohamed Sanu. The Patriots went out and signed veteran Marquis Lee this offseason, but he decided to opt out as he joins seven other Patriots in avoiding the field in 2020. Harry should benefit from Lee's decision as he is looking to find the field as much as he can. Expect the 22-year-old to take a huge leap this season. He could become the second best option for Cam Newton, or Jarrett Stidham, outside of Edelman.  
Adjusted Prediction: Harry catches 48 passes for 612 yards and 5 touchdowns. 91.2 Standard NFL.com Fantasy Points. 
2) Jakeem Grant 
Analysis: The speedy third-year pro from Texas Tech has yet to take the next step as a reliable target for the Miami Dolphins. He's been behind players on the depth chart his first two seasons, but he might be a reliable sidekick to DeVante Parker at the receiver position this year. Now that two veteran receivers, Allen Hurns and Albert Wilson, have opted out for the season, Grant should see plenty of opportunity. Brian Flores should pencil in Grant as the starting slot receiver right away. Expect the 27-year-old to have his best year yet as he proves that he belongs in this league. Second-year-pro Preston Williams should also have more of an opportunity this year, but expect Grant to take the bigger leap as he provides Miami with a lethal downfield weapon. 
Adjusted Prediction: Grant catches 47 passes for 562 yards and 4 touchdowns while rushing for 68 yards and a touchdown as well. 93.0 Standard NFL.com Fantasy Points. 
3) Jalen Reagor
Analysis: The explosive rookie wide receiver out of TCU looks to join a wide receiver room that already features Alshon Jeffery, DeSean Jackson and Greg Ward. Reagor was in the mix for battling Ward and Marquise Goodwin as the third starter in Philadelphia's offense, but Goodwin decided to opt out of the 2020 season. This provides Reagor a huge opportunity to come in and play a ton right away. Also, Jeffery seems to always find a way to battle injuries throughout a season, as does Jackson of late, so the rookie standout should have no problems seeing the field this season. He needs to develop more confidence and avoid turning the ball over as he is coming off a season where he dropped nine passes while also coughing the ball up six times for TCU. On the bright side, Reagor has already developed the trust from his starting quarterback. Wentz recently told reporters that he can "see a bright future with him" and that he is "excited to help him become the player he dreams of being." Expect Reagor to improve every week as the season goes on. He could potentially become a great fantasy wide receiver this season. 
Adjusted Prediction: Reagor catches 51 passes for 712 yards and 5 touchdowns. 101.2 Standard NFL.com Fantasy Points. 
4) Allen Lazard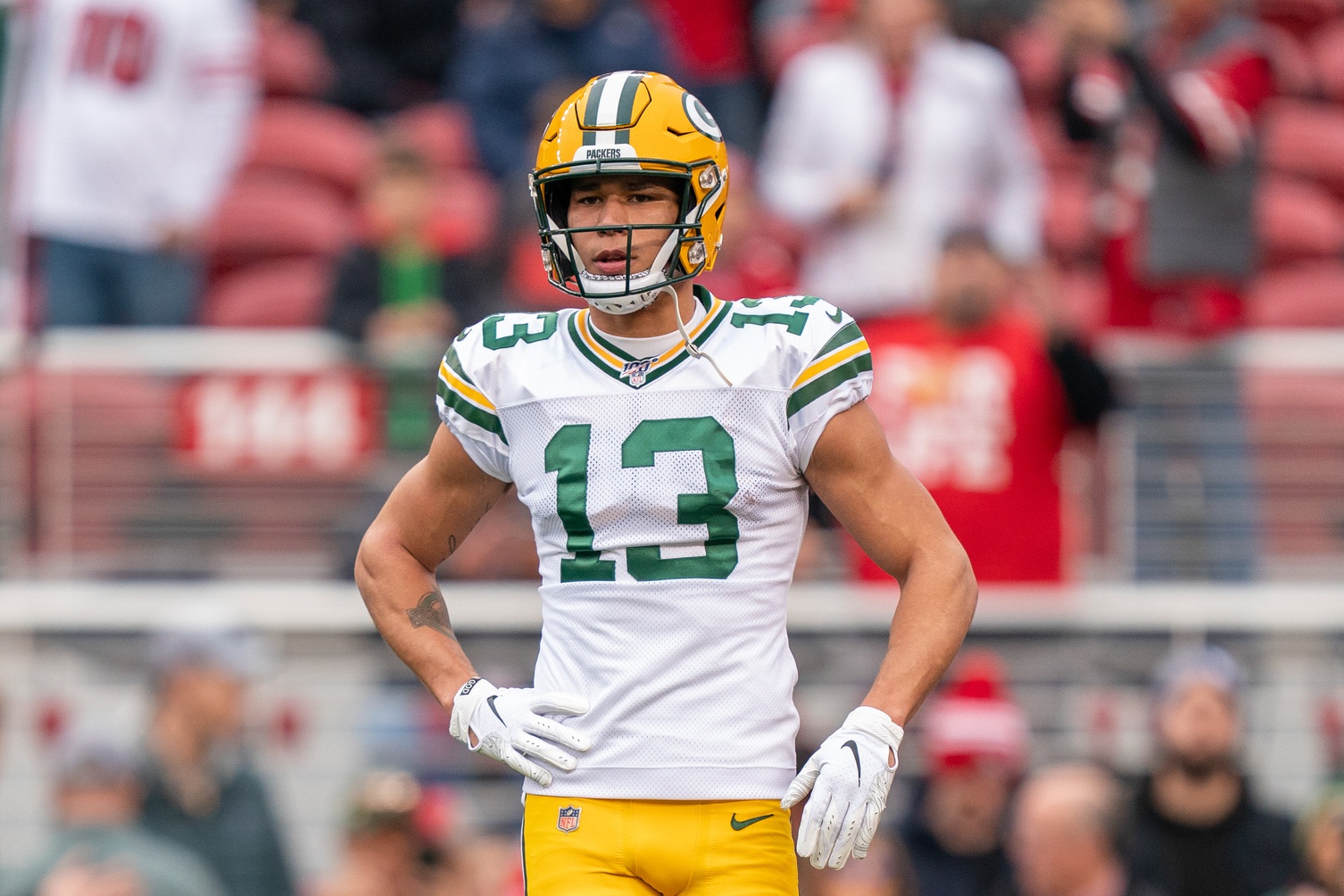 Analysis: During the offseason, Green Bay was poised to add talent to the wide receiving group for Aaron Rodgers. Instead, they drafted his potential replacement (Jordan Love) and a running back (A.J. Dillon). The Packers did go out and sign Devin Funchess to battle Lazard for playing time opposite Devante Adams. About three weeks ago, Funchess opted out of the 2020 NFL season. Now Lazard has a real chance to improve in season three as a pro. He should outplay Marquez Valdez-Scantling and Equanimeous St. Brown to take over as the sure number two option for Rodgers. The 24-year-old is coming off a surprising season where he caught 35 passes for 477 yards and 3 touchdowns. Expect the former undrafted free agent to put up bigger numbers this season. He might be a waiver-wire pick up later on in the year. 
Adjusted Prediction: Lazard catches 64 passes for 814 yards and 5 touchdowns. 111.4 Standard NFL.com Fantasy Points. 
5) Clyde Edwards-Helaire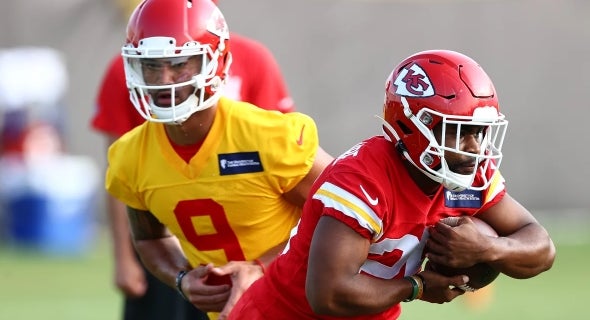 Analysis: The rookie running back had been drafted in the first round of the 2020 NFL Draft to compete with Damien Williams for the starting running back position on the team. Williams opted out of the 2020 season due to health concerns surrounding his mother. She is battling cancer, and Williams has admitted that it will be hard to watch the Chiefs this season. Now that Williams won't be on the field, Edwards-Helaire clearly should be the feature back for Kansas City this year. The rookie brings a lot to the table as he is a great receiver out of the backfield. Last season at LSU, Edwards-Helaire caught 55 passes for 453 yards and a touchdown. Don't forget, he also rushed for 1,414 yards and 16 touchdowns while averaging 6.6 yards per carry in a tough SEC conference. Third-year-pro Darel Williams will more than likely be his backup, and veteran DeAndre Washington could push for a roster spot as well. With [Damien] Williams out, Edwards-Helaire should take off in an offense that features speed and an MVP player in Patrick Mahomes. He should become a prime candidate for offensive rookie of the year as Andy Reid will make sure he is heavily utilized in Kansas City's entertaining offense. 
Adjusted Prediction: Edwards-Helaire rushes for 980 yards and 5 touchdowns while catching 44 passes for 512 yards and 2 touchdowns. 191.2 Standard NFL.com Fantasy Points.