It's already week two! At this point, you should have a decent idea on how your fantasy team will shape out the rest of the season. If you have a tight matchup, or you are looking to make a difference this week against your opponent, the 'must starts' and 'must avoids' below will help you out. 
Quarterbacks
Must Starts: 
Aaron Rodgers (vs DET) Rodgers came out angry last week dialing in 73 percent of his passes to go along with 364 yards and 4 passing touchdowns. He will face a banged up secondary that allowed Mitchell Trubisky to shine last week.
Dak Prescott (vs ATL) Atlanta got destroyed last week by Russell Wilson. Wilson threw for 322 yards and 4 touchdowns while completing 89 percent of his throws. Dallas will take advantage of the poor secondary in Atlanta. Expect big numbers from Dak this week.
Kyler Murray (vs WAS) Last week, Murray torched a solid San Francisco secondary. He finished as the fifth highest fantasy scorer among quarterbacks last week. Expect similar things this week as he faces off against a mediocre Washington defense.
Lamar Jackson (at HOU) Jackson showed last week that last season wasn't a fluke. He simply dominated the Cleveland Browns, and now he has another enticing matchup. Houston looked lost last week against a really good Mahomes and Kansas City Chiefs team. Expect Jackson to put up tremendous numbers once again.
Drew Brees (at LV) After a disappointing week one for fantasy, Brees should have no problem bouncing back this week. Michael Thomas is more than likely out, but this Raiders secondary is young. Brees should have no issues picking apart the Las Vegas Raiders this week.
Must Avoids:  
Jared Goff (at PHI) Last week against the Cowboys, we learned that even without Todd Gurley, Sean McVay is looking to run the ball into the end zone. If this Rams team is inside the red zone, they are looking to run the ball in. This takes away fantasy opportunities from Goff. Last week, Philadelphia only allowed 178 passing yards.
Drew Lock (at PIT) Courtland Sutton is more than likely out. Pittsburgh has arguably a top five defense in this league, and this doesn't fare well for Lock and the Broncos. Lock should be avoided this week in most fantasy lineups.
Daniel Jones (at CHI) At times, Jones looked great last week against the Steelers, but he also had times where he didn't look good. Expect similar results this week against a tough Bears defense. Robert Quinn is back this week, so expect that Bears unit to be in Jones' face all game.
Teddy Bridgewater (at TB) Tampa Bay limited Future Hall of Famer Drew Brees to just 160 passing yards last week. How do you think his former backup will do? Bridgewater and the Panthers will more than likely run their offense through Christian McCaffrey. He is poised for another huge week, but we will get into that more later.
Matthew Stafford (at GB) Stafford can't catch a break. He put his team on his "back" last week against the Bears, and put the ball right on D'Andre Swift's chest for a game-winning touchdown. That is until everyone saw the ball slip to the ground for Swift's second drop of the game. Stafford historically doesn't play well against Green Bay (19 interceptions in 18 career games), so he should be avoided this week in your fantasy lineups.
Running Backs 
Must Starts: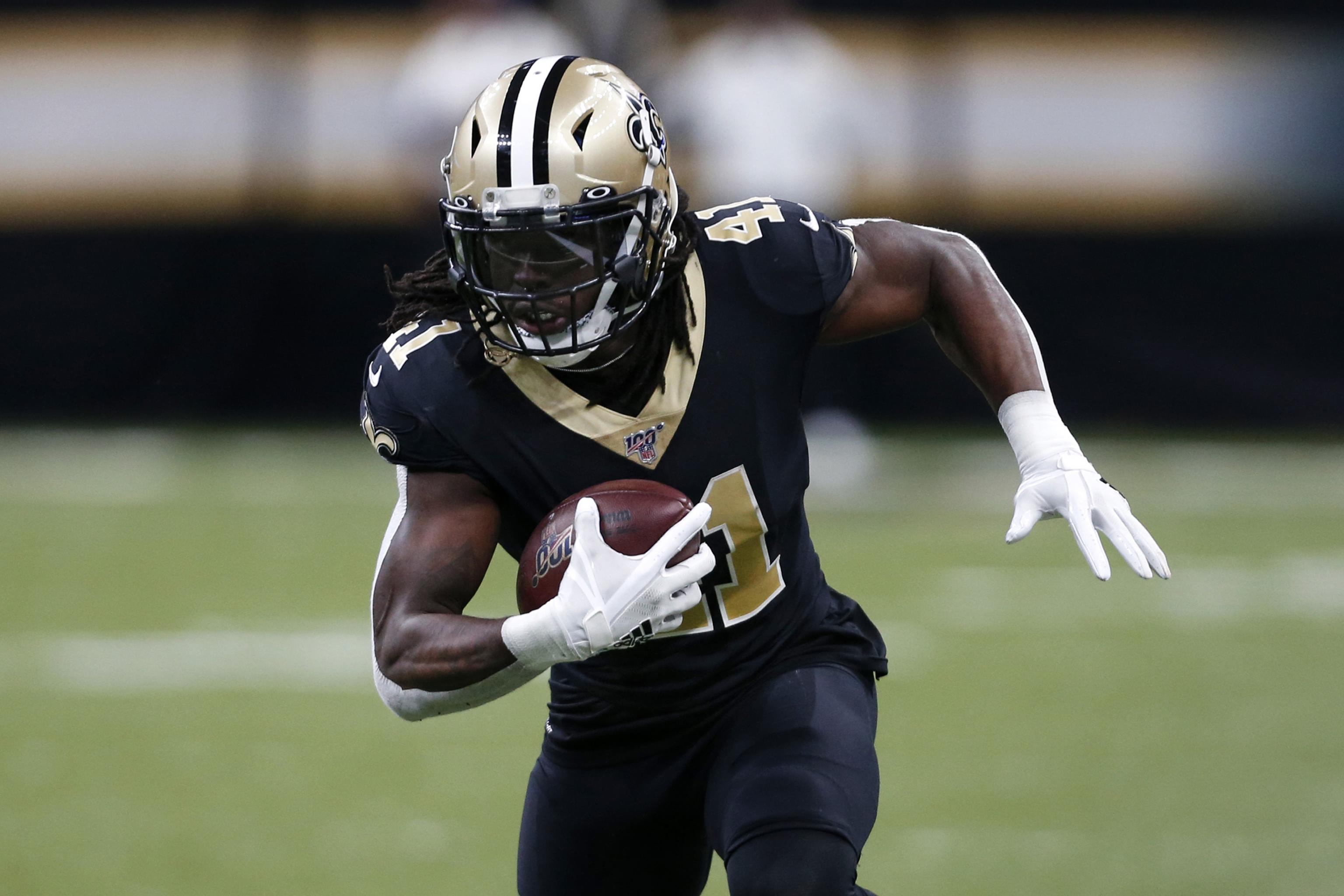 Alvin Kamara (at LV) Kamara provided 23.7 PPR Fantasy Points last week, and he is looking to put up big numbers again this week. Las Vegas' defense is young and inexperienced. Expect Kamara and the Saints to take advantage. Last week, the Raiders allowed 129 rushing yards. Expect Kamara to run the ball well and become one of Drew Brees' main receiving targets as Michael Thomas is likely out. 

Raheem Mostert (at NYJ) Mostert finished last week as the sixth highest scoring running back in fantasy. He should resume where he left off as he lines up against a poor Jets defense. New York allowed 98 rushing yards and 39 receiving yards to running backs last week. Expect Mostert to capitalize in both the run and receiving game this week.
Jonathan Taylor (vs MIN) Marlon Mack is out for the rest of the year due to a torn achilles tendon. Taylor should come in and lead the team in carries as Hines will take most of the receiving duties out of the backfield. Minnesota allowed 158 rushing yards last week, so look for Indianapolis to run all over this defense.
Todd Gurley (at DAL) Gurley looked good last week rushing the ball 14 times for 56 yards and a touchdown. Atlanta trailed the whole game, so they took matters into the passing game. Expect this week to be different. Dallas allowed 153 rushing yards to Gurley's former team last week.
Miles Sanders (vs LAR) Sanders is a full-go for this week's matchup against the Rams. Expect Philadelphia's offense to run through Sanders as the Rams will look to slow down Wentz early. The Rams weren't good against the run last week as they allowed Dallas to rush for 136 yards.
Clyde Edwards-Helaire (at LAC) Edwards-Helaire had a tremendous NFL debut last week as he rushed for 138 yards and a touchdown. Look for the rookie to be used more as a receiver this week. Either way, there is no reason Edwards-Helaire doesn't touch the ball 20-25 times this week.
Josh Jacobs (vs NO) Jacobs led all running backs in scoring last week as he posted 35.9 PPR Fantasy Points. He should see success this week as well against a good Saints defense. Las Vegas runs their offense through their second-year-pro running back, and they will rely on him heavily this week.
Christian McCaffrey (at TB) Tampa Bay didn't look great against the run last week. They will be dealt with an even harder task in slowing down McCaffrey. As East West's Clayton Hoffard would say, "death, taxes and Christian McCaffrey are the only guarantees in life."
David Montgomery (vs NYG) Look for Chicago to be in control for most of this game, and they made it known that they want to run the football. Last week against Detroit, Montgomery rushed the ball 13 times for 64 yards. The Giants on the other hand, allowed Benny Snell Jr. to look like a star as he rushed for 113 yards on 19 attempts. Montgomery should have a big week against this Giants defense.
Saquon Barkley (at CHI) Look for Barkley to bounce back this week against a Bears unit that allowed Adrian Peterson to come back to life. AP ran the ball 14 times for 93 yards last week. In Barkley's two career games against Chicago, he has rushed for 184 yards. Expect bigger numbers this week as he will come out looking to prove he is an elite running back in this league.
Must Avoids:  
Chris Carson (vs NE) Carson looked great last week against the Falcons, but he will face off against a much better defense this week. New England is great against the run, and they have allowed just the fourth-fewest receptions to a running back since the start of the 2019 season. Avoid starting Carson this week unless you have to.
Kerryon Johnson (at GB) Johnson was expected to lose carries eventually this season, but it wasn't supposed to be to Adrian Peterson. The third-year-pro will more than likely see less snaps than Peterson and Swift from now on.
Melvin Gordon (at PIT) Gordon had a costly fumble last week against the Tennessee Titans. Besides that, he looked good in a Denver uniform. With Lindsay out, Gordon should see more touches, but he is going against a Steelers D-Line that limited Saquon Barkley to just 6 yards on 15 rushing attempts.
Jordan Howard (vs BUF) Miami has now come out and said that they are going to use a committee approach with their running backs. Howard should split carries with veteran Matt Breida and rookie Myles Gaskin. Even if Howard was the lead back, he would have a hard time against a stout Buffalo defense.
James Conner (vs DEN) Conner may have lost his job last week to Benny Snell Jr. Going into the week, head coach Mike Tomlin hyped up the idea that Conner would be Pittsburgh's 'bell cow.' Conner then ran the ball six times for nine yards, and he only caught two passes for eight more yards. At best, he will split carries with Snell Jr. this week.
James White (at SEA) Without Brady as his quarterback, it looks like White won't be used as much this season. If he gets going early against Seattle, expect Jamal Adams to spy the gadget back. This week against Seattle is not a great matchup for White.
Cam Akers (at PHI) The highly anticipated rookie was outplayed by Malcolm Brown (79 rushing yards and two touchdowns) last week. Akers rushed the ball 14 times, but he only produced 39 rushing yards. Expect his carries to decrease this week as McVay will look to get Brown the ball more.
Frank Gore (vs SF) With Le'Veon Bell out, Gore will look to handle the bulk of carries for the Jets this week. San Francisco has a stout defensive line that should have no issue slowing down the 37-year-old. Since the start of 2019, the 49ers have allowed the third fewest fantasy points per game to running backs.
Tevin Coleman (at NYJ) Mostert proved that he will likely be the guy for San Francisco this season. He looked great last week, and Jerrick McKinnon saw a decent amount of playing time as well. Expect Coleman to lose snaps to both Mostert and McKinnon this week as they face off against a Jets team that is surprisingly good against the run.
Leonard Fournette (vs CAR) Fournette looked lost last week in his Buccaneers' debut. He ran the ball five times for five yards. Expect Ronald Jones II to receive most of the carries against Carolina this week. Fournette should start rolling at some point this year, but it will more than likely be after week two.
Wide Receivers
Must Starts: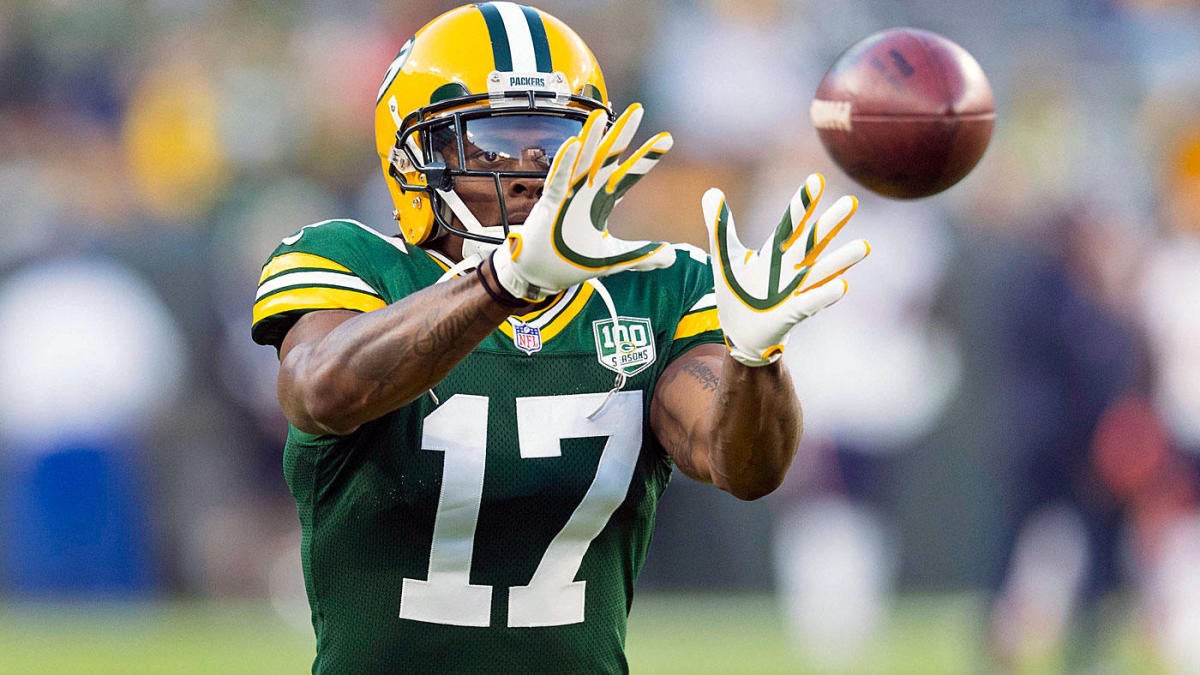 Davante Adams (vs DET) Adams led all fantasy players last week in fantasy points. He produced 41.6 PPR Fantasy Points while catching 14 passes for 156 yards and two touchdowns. He should have no problem dominating once again in week two. The Lions' top three cornerbacks are all battling injuries. One of them, Justin Coleman, was placed on the IR. Expect huge numbers again for Adams this week.
Allen Robinson II (vs NYG) Now that the trade rumors surrounding Robinson are dead, he will look to prove that he is worthy of a contract extension. Last week, he caught five passes for 74 yards. Expect a bigger week this week against a poor Giants secondary. The Giants allowed the fourth most fantasy points to wide receivers last week.
Cooper Kupp (at PHI) Kupp will look to bounce back from a quiet week one against the Cowboys last week. Last season, Philadelphia allowed 21 passing touchdowns to receivers, which was tied for third in the league. Expect big plays from Kupp this week.
Emmanuel Sanders (at LV) The Saints and Drew Brees love to throw the ball. With Michael Thomas out, Jared Cook and Sanders should see a lot more opportunities. Last week, Sanders found the end zone, but he only caught three passes for 15 yards. Expect more out of Sanders this week as he will line up against a mediocre Raiders secondary.
Corey Davis (vs JAX) A.J. Brown is officially out against Jacksonville this week. This means more responsibility will be put on Davis. Last week, Davis had a tremendous game catching seven passes for 101 yards. Expect similar numbers this week as Davis will line up against a poor Jacksonville secondary.
Adam Thielen (at IND) Thielen had a monster performance last week as he hauled in six catches for 110 yards and two touchdowns. Against Jacksonville last week, Indianapolis allowed Gardner Minshew to pick apart their secondary. Expect Kirk Cousins and the Vikings to do the same this week.
Mike Evans (vs CAR) Godwin is officially out and Evans is officially in this week against the Panthers. Brady will look Evans' way a ton this week as they look to connect against a bad Panthers secondary. Expect a lot of targets going Evans' way this week.
Jalen Reagor (vs LAR) Reagor is set to play this week against a Rams secondary that features Jalen Ramsey. Expect Ramsey to line up across Zach Ertz and Desean Jackson a lot this week. This will open up more opportunities for Reagor out of the slot. If you watched last week's game against Washington, Reagor blew by their secondary a ton, but Wentz was constantly under pressure as their O-Line collapsed a ton.
Amari Cooper (vs ATL) Atlanta allowed 322 passing yards last week against Seattle. They will face off against a Cowboys team that also likes to pass a lot. Expect big numbers from Cooper this week after leading the team in receiving last week with ten catches for 81 yards while Jalen Ramsey defended him most of the game.
Calvin Ridley (at DAL) Ridley posted a monster performance last week as he finished third in fantasy points amongst all players. He caught nine passes for 130 yards and two touchdowns. This week, he will line up across a Dallas team that surrendered 275 passing yards last week. Expect big numbers for Ridley once again this week.
Must Avoids: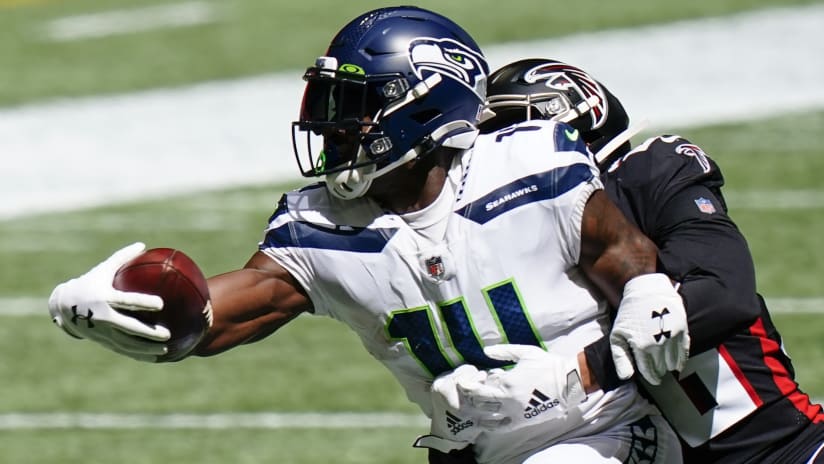 DK Metcalf (vs NE) Although Metcalf looked great in week one (four catches for 95 yards and a touchdown), he will more than likely be tasked with the duty of beating Stephon Gilmore one-on-one. The reigning Defensive Player of the Year should have no issue slowing down the talented second-year-pro. Only start Metcalf this week if you desperately need to.
Christian Kirk (vs WAS) Kirk was nowhere to be found last week against the 49ers. Although he was targeted five times, he only caught one pass for no yards. He is a must-sit this week, and he should stay on your bench until he can prove to be a vital sidekick to DeAndre Hopkins.
Marvin Jones Jr. (at GB) Jones Jr. was expected to have a large role last week with Kenny Golladay out. He disappointed by only catching four passes for 55 yards. Golladay is out again this week, so expect similar stats for Jones Jr. again. He has proven that he is a better player when Golladay is on the field.
Courtland Sutton (at PIT) Sutton is once again questionable to play this week as he is nursing a sore shoulder. If he does play this week, expect his snaps to be limited. Rookie Jerry Jeudy and tight end, Noah Fant, should see most of the targets this week against a great Pittsburgh defense.
DJ Moore (at TB) The last time Tampa Bay allowed at least 300 yards passing was week ten of last season. Things shouldn't change this week against Teddy Bridgewater and the Carolina Panthers. Expect their offense to run through McCaffrey, and this will hurt Moore's fantasy value.
Tyreek Hill (at LAC) Hill typically doesn't play great against Los Angeles. The Chargers' defense is underrated, and they have never allowed Mahomes to throw for more than 300 yards in a game. In two games last year against the Chargers, Hill was targeted seven times while only catching four passes for 61 yards.
D.J. Chark Jr. (at TEN) In three career games against the Titans, Chark Jr. has only caught nine passes for 114 yards and one touchdown. Last week, he caught a touchdown but only produced three catches for 25 yards. Tennessee is also not a great matchup for Jaguars wide-outs as they are coming off a week where they only surrendered 216 passing yards. Only 110 of those yards were hauled in by wide receivers.
James Washington (vs DEN) Washington is listed as Pittsburgh's No. 3 WR on the team, but he was out played by JuJu Smith-Schuster, Diontae Johnson and rookie Chase Claypool last week. Expect his snaps to decrease with the emergence of Claypool.
Preston Williams (vs BUF) Williams had a rough week against the Patriots a week ago. He only caught two passes for 41 yards. He will face another tough secondary this week against the Buffalo Bills. If you have Williams on your team, he doesn't deserve to be dropped just yet, but sit him this week against Buffalo.
Michael Pittman Jr. (vs MIN) Pittman Jr. was outplayed by Parris Campbell, T.Y. Hilton and Zach Pascal last week. The highly anticipated rookie is also dealing with a toe injury. At all costs, avoid the rookie this week even though they face off against a secondary that was shredded last week by Aaron Rodgers.
Tight Ends 
Must Starts: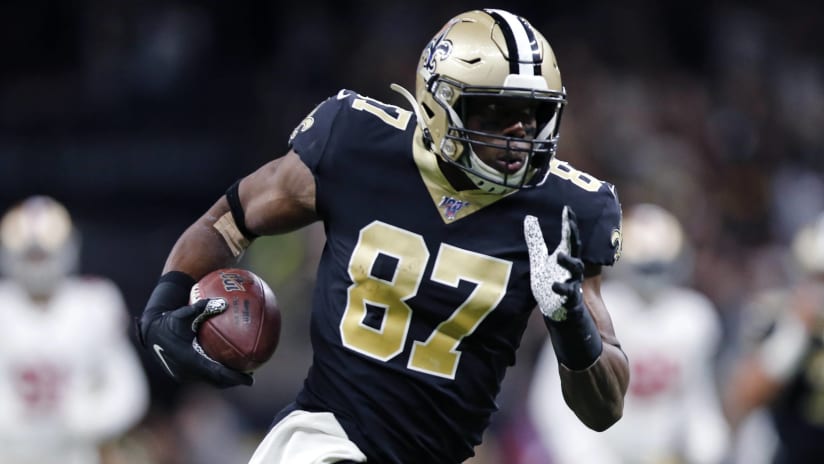 Jared Cook (at LV) Cook was Brees' top target last week against Tampa Bay. He caught five passes for 80 yards. This was good enough to land him tenth in fantasy points among tight ends in week one. Expect a bigger week this week as Cook will face off against his former team. With Michael Thomas out, Cook will be heavily targeted against the Raiders.
Noah Fant (at PIT) Fant was a stud last week against the Titans. He caught five of his six targets for 81 yards and a touchdown. He finished third in scoring among tight ends, and he should keep rolling this week against the Steelers. Drew Lock loves targeting Fant, and he should have a huge role with Courtland Sutton's status up in the air.
Jimmy Graham (vs NYG) Graham was targeted seven times last week, but he only caught three passes for 25 yards. He did haul in a touchdown to get Chicago's offense rolling. New York is a great matchup as they are coming off a game where they surrendered 370 total yards. Expect Graham to be targeted a decent amount once again.
Dallas Goedert (vs LAR) Goedert was the No. 1 Fantasy Tight End last week as he produced 24.1 PPR Fantasy Points. He led Philadelphia in receiving yards (101) and catches (8), and he also scored a touchdown. This week's game against the Rams isn't the most enticing, but you have to start someone when they're hot.
TJ Hockenson (at GB) Stafford relied on Hockenson a lot last week against Chicago. The second-year-pro caught all five of his targets to go along with 56 receiving yards and a touchdown. Hockenson should have another great game this week as his Lions face off against a Packers defense that allowed 34 points. With Kenny Golladay out once again this week, expect Stafford to target Hockenson a good amount of times.
Must Avoids:  
Rob Gronkowski (vs CAR) Gronk was only targeted three times last week, and O.J. Howard outproduced him. Until he proves he's worthy in fantasy, sit the Future Hall of Famer. A week ago, Carolina only allowed 47 yards to tight ends and no touchdowns.
Greg Olsen (vs NE) Olsen looked decent last week catching four passes for 24 yards and a touchdown, but this week is a different story. New England shut down Miami's tight ends a week ago. They only surrendered three catches for 30 yards to the tight end position. Sit Olsen this week.
Hayden Hurst (at DAL) Hurst is coming off a disappointing fantasy performance from a week ago. Russell Gage took over as Matt Ryan's No. 3 option, and this could be the same this week as well. He was only targeted five times last week, and Dallas is a bad matchup for the former first round pick.
Chris Herndon (vs SF) Herndon should be avoided this week. Yes, Jamison Crowder is out, but the 49ers didn't allow a single tight end to catch the ball a week ago. That's enough information to leave Herndon on your bench this week.
Mike Gesicki (vs BUF) Gesicki had a hard time last week as he only caught three passes for 30 yards. This week, he should have a hard time once again as he lines up across a very good Bills defense. Leave Gesicki on your bench this week.
Defenses
Must Starts: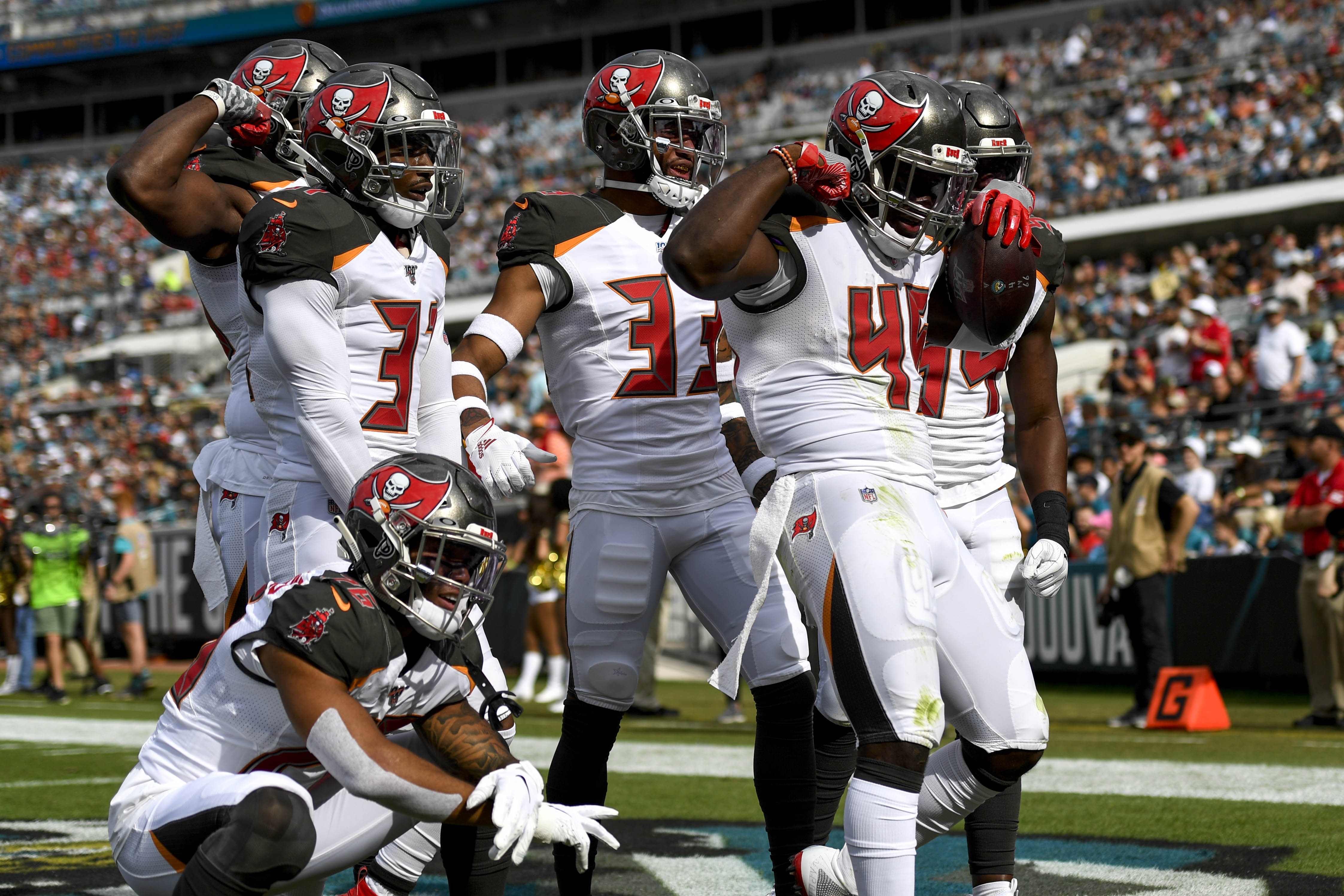 Tampa Buccaneers (vs CAR)
San Francisco 49ers (at NYJ)
Pittsburgh Steelers (vs DEN)
Arizona Cardinals (vs WAS)
Must Avoids: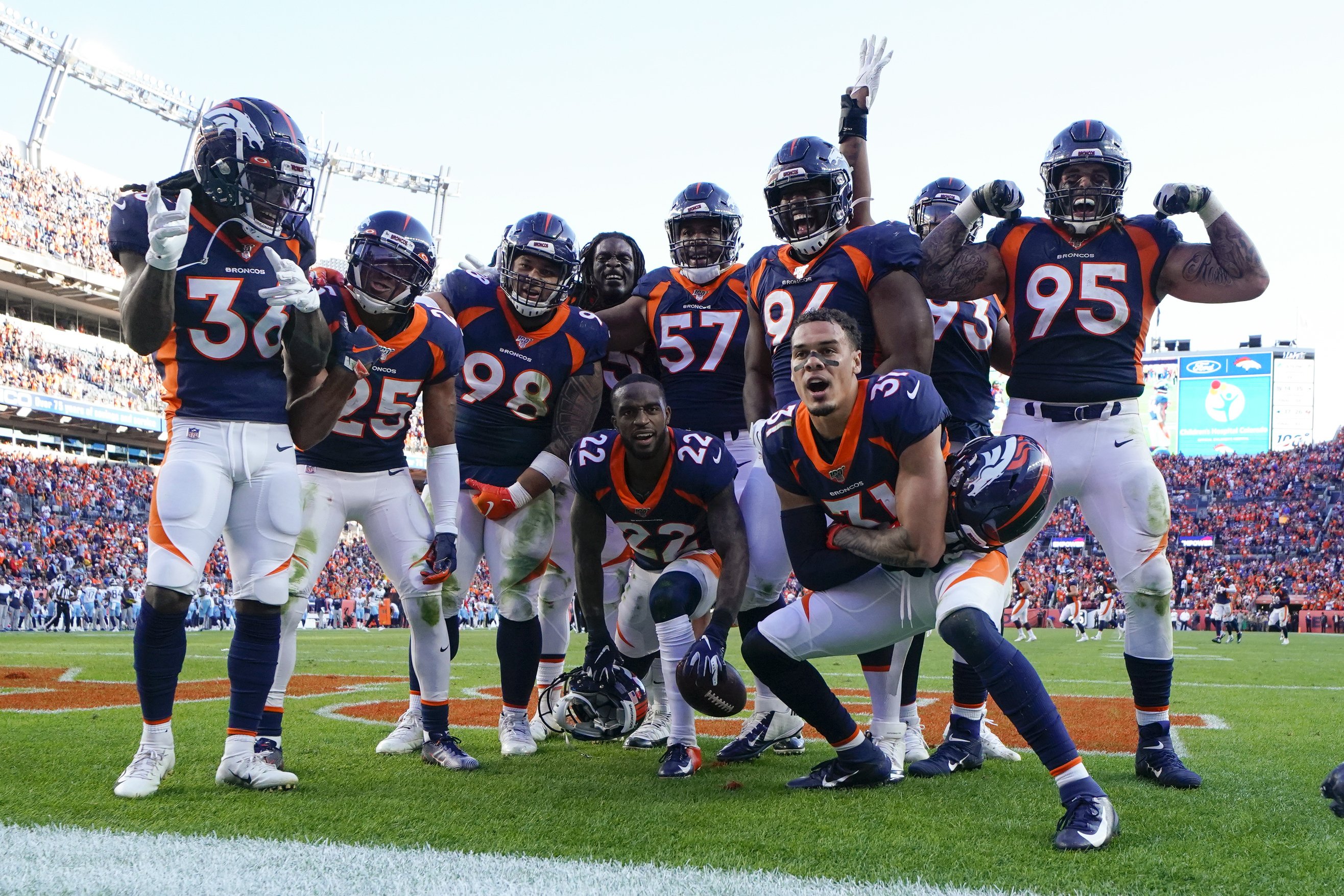 Baltimore Ravens (at HOU)
Los Angeles Chargers (vs KC)
New England Patriots (at SEA)