Quarterbacks
Must Starts:
Deshaun Watson (vs JAX)

Now that Bill O'Brien is out of town, Watson will have even more weighing in on him. His team sits 0-4, and he will look to revamp his play against a poor Jacksonville defense. Expect Watson to play angry and come out with a victory for his team. 
Jared Goff (at WAS)

Goff and the Rams play a Washington team that has struggled mightily against the pass this season. The former Pro Bowl quarterback should have his way this week as Washington ranks eighth-to-last against fantasy quarterbacks. 
Teddy Bridgewater (at ATL)

Bridgewater is coming off his best fantasy week of the season as he scored 27.24 PPR Fantasy Points a week ago. Expect similar numbers this week as Atlanta has given up the MOST fantasy points to quarterbacks this season. 
Justin Herbert (at NO)

The rookie quarterback continues to impress as he is coming off of his second 20-plus fantasy point game this season. Don't expect his hot start to cool down yet as he faces a New Orleans' defense that sits in the bottom ten against the pass. 
Kirk Cousins (at SEA)

The Vikings' signal-caller cracks the "must starts" list for the first time this season, but that is only because he is playing Seattle this week. The Seahawks have made every quarterback they've faced this season look great. Expect Cousins to look great for now at least. 
Must Avoids:
Carson Wentz (at PIT)

Wentz has been awful this season, but so has the entire NFC East Division. He's thrown just four touchdowns compared to seven interceptions. This week, he will attempt to throw passes against one of the best defenses in the league. Don't expect a lot out of the veteran this week. 
Gardner Minshew (at HOU)

Yes, Houston is (0-4). Although their defense hasn't been great, their pass defense has been solid. They have allowed the tenth fewest fantasy points to quarterbacks this season. Expect Minshew to struggle, and expect the Texans to win this game. 
Matt Ryan (vs CAR)

Just a couple of weeks ago, Ryan looked like a solid, every week, starter in fantasy football. Now, he looks like a potential "drop" candidate. He has only combined for 24.82 PPR Fantasy Points the past two weeks. Don't expect a sudden change this week as he is playing a Carolina team that has allowed the third fewest fantasy points to signal-callers this season.
Derek Carr (at KC)

Carr will be without a couple weapons once again this week. There are only a few quarterbacks in this league that can play at an exceptional level without some of their main targets (AARON RODGERS AND PATRICK MAHOMES). Kansas City's defense has been quietly good this year as well. 
Ben Roethlisberger (vs PHI)

Big Ben has played great this year, and his team is (3-0) for the first time since 2010. After an early bye week, the Steelers and Big Ben take on a Philadelphia Eagles team that ranks just outside the top five against the pass. Sit Roethlisberger this week, but he should be back in your starting lineup soon. 
Running Backs
Must Starts:
Mike Davis (at ATL)

Since taking over for Chrisitan McCaffrey in the fourth quarterback of week two, Davis has delivered 15.5, 23.2 and 22.1 PPR Fantasy Points, respectively. He ranks 16th among fantasy running backs without a full four games to show for. Davis needs to stay in your lineup this week as you want to start every fantasy player possible against that Atlanta Falcons defense. 
Jerick McKinnon (vs MIA)

For those of you that are concerned about McKinnon because Mostert is back…DON'T BE. McKinnon has proved that he is a huge piece to Kyle Shanahan's offense. Even when Mostert and Coleman were on the field, McKinnon was productive. Also, Miami doesn't defend the running back position well…at all. 
Todd Gurley (vs CAR)

The veteran back is coming off his best fantasy game of the season (19.3) a week ago. He's got a great matchup this week as Carolina has given up the second most fantasy points to running backs in 2020. Expect Atlanta to run a lot more in this game, and Gurley should be the focal point. 
James Robinson (at HOU)

Jacksonville's 'bell cow' should see a lot of action this week. Houston defends the pass well, but they struggle against the run. Last week, Dalvin Cook ran for 130 yards and two touchdowns. The week prior, Houston allowed James Conner to rush for 109 yards and a touchdown. Do you get the point? Start Robinson this week, and expect at least 15 PPR Fantasy Points. 
Clyde Edwards-Helaire (vs LV)

Clyde the Glide has been fantastic this year in fantasy. Some may say he hasn't lived up to the hype, but if you are averaging just under 16 PPR points a week on an offense that features Patrick Mahomes, Travis Kelce, Tyreek Hill, etc., you're doing just fine. Start Edwards-Helaire this week against the Raiders. They have given up the MOST fantasy points to running backs this season. 
Must Avoids: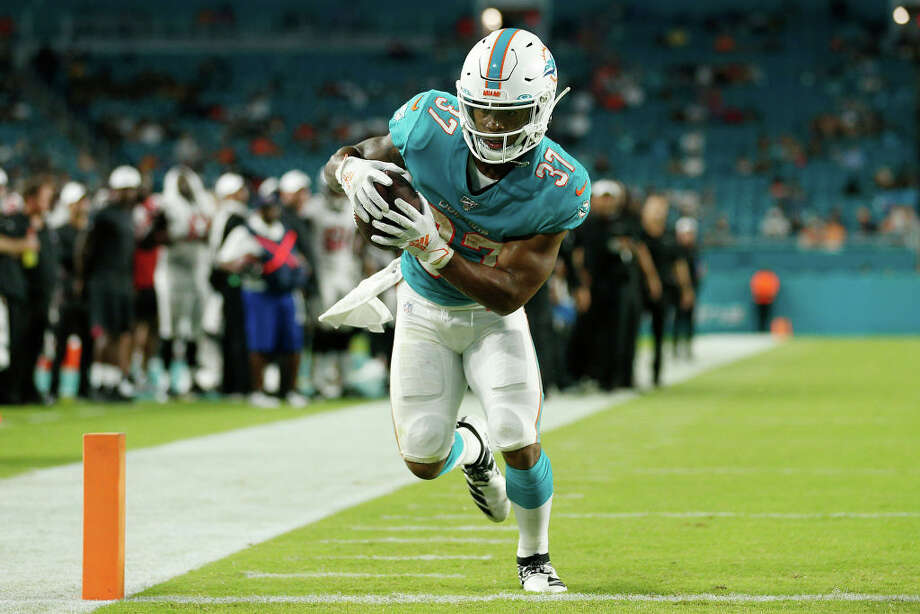 Myles Gaskin (at SF)

Although the rookie is receiving the most touches out of the backfield for Miami, he is only averaging about 12 PPR points a game. This is good enough to be on your fantasy team, but it is not good enough to think you need to start him. This week is especially a "must avoid" as he and his Dolphins take on a San Francisco 49ers team that has allowed the fewest fantasy points to running backs this season. 
Darrell Henderson and Malcom Brown (at WAS)

You can't trust either one of them. Just as Henderson looked like he was easily the Rams' top back on the team, he was outperformed by Malcom Brown for the second time in four games. Neither running back seems to have the edge, and it looks like it will depend on the weekly matchup as to who will outperform the other. Sit both of them this week as Washington ranks 7th in the league against fantasy running backs. 
Phillip Lindsay (at NE)

Back in action for the first time since week one, Lindsay will be tasked to back up Melvin Gordon and face a stout New England run defense. Wait until Lindsay gets the feel for things again before you even think about starting him. 
James White (vs DEN)

White looked decent in his return last week against the Chiefs. He scored 12.9 PPR points, but don't expect him to score that many this week. He will share touches with both Damien Harris and Rex Burkhead against Denver. The Broncos only allow an average of four catches by backs a game. That's where White specializes, so for this week, sit the veteran back. 
Wide Receivers
Must Starts: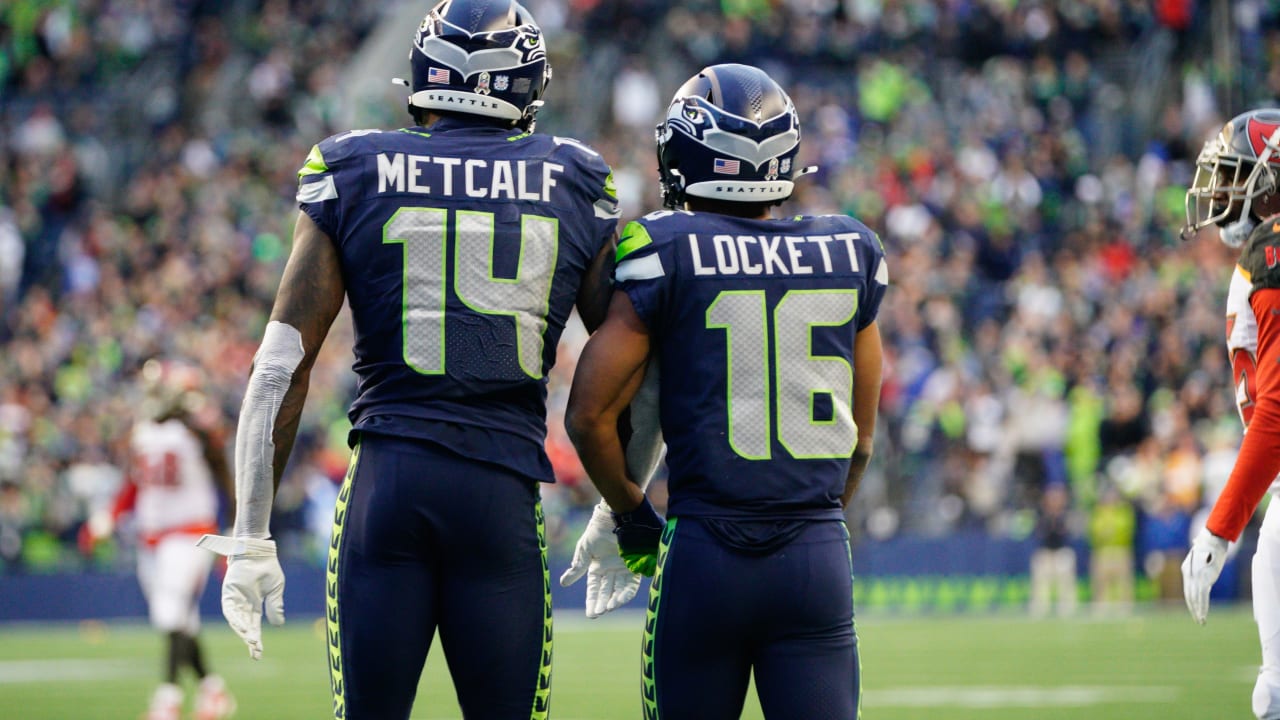 DK Metcalf and Tyler Lockett (vs MIN)

This should be a know-brainer by now…Metcalf and Lockett must start each and every week, this week especially. Their Seahawks face a Vikings team that has given up the fourth most fantasy points to wide receivers this year. Expect both to have easily over 15 PPR points a piece. 
Justin Jefferson and Adam Thielen (at SEA)

Just like Metcalf and Lockett, expect both Jefferson and Thielen to have great games as well. Seattle's pass defense is even worse than Minnesota's. In fact, Seattle has given up the MOST wide receiver fantasy points in 2020. This game should be a shootout that features a lot of bad defense and a ton of fantasy points. 
Darius Slayton (at DAL)

Although Slayton hasn't been a productive/reliable fantasy receiver this season, he has a great matchup this week against Dallas. The Cowboys are one of the worst pass defenses in the league, and Slayton is New York's top deep threat option. Expect Jones to target Slayton a lot in this game as he will more than likely be passing the ball a ton. 
Must Avoids:
Tim Patrick (at NE)

Patrick is coming off of two productive fantasy games in a row (14.3, 23.3). Don't expect that to continue this week against a New England pass defense that will look to rebound from a week ago. If you picked up Patrick, sit him this week. 
Hunter Renfrow (at KC)

Renfrow has seen an increase in targets due to Ruggs and Edwards sitting out with injuries. Even if those two don't play again this week, Renfrow should struggle. Kansas City has allowed the least amount of fantasy points to wide-outs this season. They held Marquise Brown to just 12.6 PPR points a week ago. 
Russell Gage (vs CAR)

After an impressive first two weeks to the season (37 points), Gage has struggled mightily. He hasn't scored more than five points two weeks in a row. Sit Gage, and maybe even consider dropping him if he doesn't do much this week. 
Tee Higgins and AJ Green (at BAL)

Tyler Boyd has easily taken over as Joe Burrow's top target on the team. Green has fallen off in a big way (1.3 points last week), and Higgins has played pretty well (13 points last week). If you have either of them, sit them this week as Baltimore typically defends wide receivers well. Each week, it seems that only one receiver will play well against this defense, and if that's the same story this week, expect it to be Boyd that plays well. 
Tight Ends
Must Starts: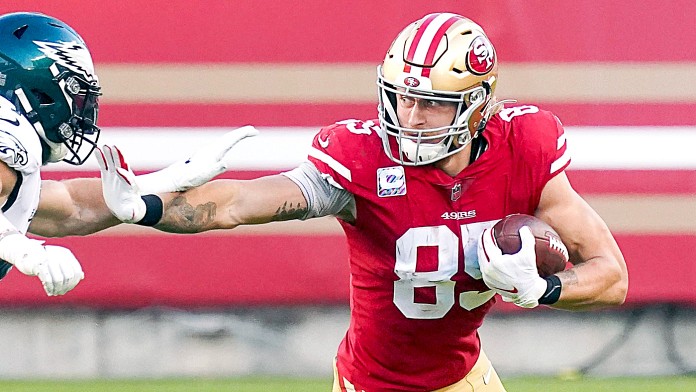 George Kittle (vs MIA)

Kittle and Kelce are usually left off these articles because they are no-brainers to start every week. But Kittle deserves to feature this week. He caught all 15 of his targets last week for 183 yards and a touchdown. WOW WOW WOW! What a performance. Start him this week against an underrated and decent Dolphins pass defense.
Hunter Henry (at NO)

Henry suffered his first rough fantasy outing last week as he only produced 5.9 PPR points. Expect the veteran to bounce back this week and produce at least 12 PPR points. New Orleans has given up the second most fantasy points to the tight end position this year. Herbert will be looking Henry's way a ton. 
Mo Alie-Cox (at CLE)

Cleveland does an awful job at defending the tight end position. They allowed Dalton Schultz to look like an elite player last week (4 catches, 72 yards and a touchdown). Expect Rivers to target Alie-Cox a lot more than he did last week (twice). He is one of the Colts' most reliable targets inside the 20-yard-line  this year. 
Evan Engram (at DAL)

Engram has certainly disappointed this season, but he could turn heads this week. Dallas is atrocious on the defensive side of the ball. Expect the Giants to pass all over their secondary. If you have Engram, slip him into your starting lineup. 
Tyler Higbee (at WAS)

Higbee has been a disappointment this season if you look past his terrific week two performance (28.4 points). He's coming off of back-to-back weeks of below ten point-performances. Expect that all to change this week as he should be busy catching passes against a bad Washington secondary. 
Must Avoids: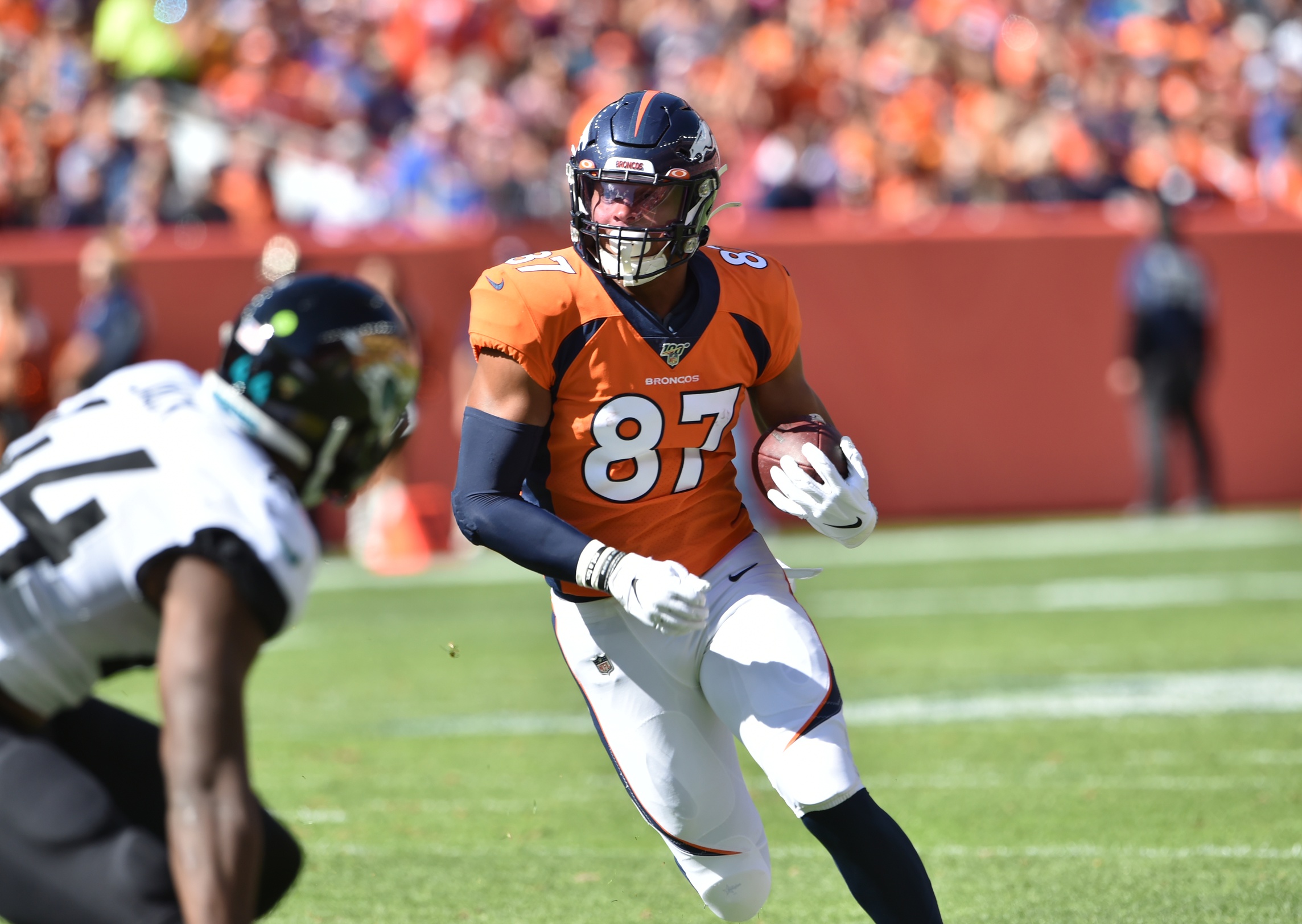 Noah Fant (at NE)

If you have Fant, do not start him this week. He is doubtful to play against New England, and even if he did suit up, he would be playing through a tough ankle injury. He should sit this week both in the game and for your fantasy team. 
Jonnu Smith (vs BUF)

Smith has been exceptional this season, but his Titans have suffered from an outbreak of COVID-19. Tennessee didn't play last week because of it, and if they play this week, it won't be until Tuesday. That's a lot of time to develop "rust" and lose "trust."                                                                                                

Austin Hooper (vs IND)

The Colts own the number one pass defense in the league this year. They have allowed the fewest fantasy points to tight ends this season. For those of you that are excited about Hooper's production from a week ago, do not expect anything near the same this week. 
Logan Thomas (vs LAR)

The Rams aren't a horrible matchup for Thomas this week, but he has been awful as of late. Last week, he only produced 1.8 PPR points after catching just one of his four targets. Kyle Allen is his new quarterback for now. This might help Thomas later on as Allen has shown to develop trust with his tight ends. 
Greg Olsen (vs MIN)

Olsen isn't worth starting this week despite the Vikings' struggles on the defensive side of the ball. Minnesota hasn't been awful against tight ends this season, so don't expect too much out of the veteran. Wilson will more than likely target Tyler Lockett, DK Metcalf and David Moore predominantly in this game. 
Defenses
Must Starts: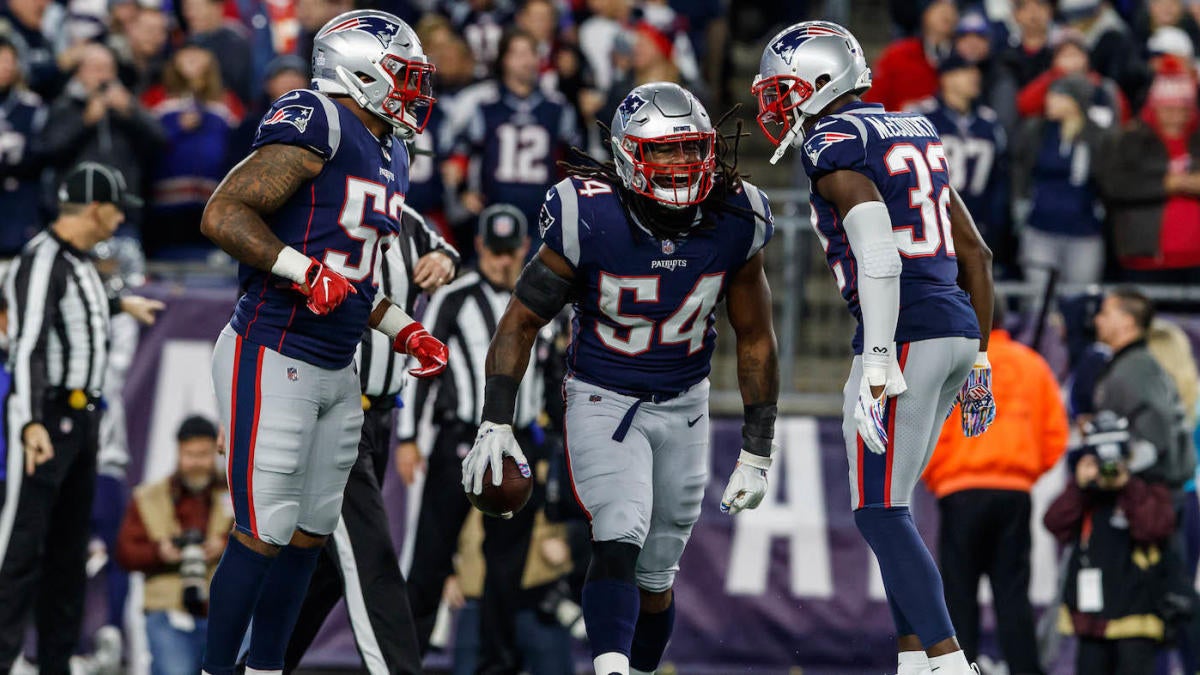 New England Patriots (vs DEN)
Los Angeles Rams (at WAS)
Baltimore Ravens (vs CIN)
Arizona Cardinals (at NYJ)
Cleveland Browns (vs IND)
Must Avoids:
Philadelphia Eagles (at PIT)
Los Angeles Chargers (at NO)
Carolina Panthers (at ATL)
Tennessee Titans (vs BUF)
New Orleans Saints (vs LAC)