By now, everyone has been hit by either injuries, bye weeks, players testing positive for COVID-19 or players' games being postponed. Entering week five, there are still some notable names on the free agent market. If Joshua Kelly (55 percent owned) is a free agent in your league, pick him up because Austin Ekeler is out four-to-six weeks with a hamstring injury. Other names that don't appear on this list but are worth mentioning are: Dalton Schultz (53 percent owned), Mecole Hardman (41 percent owned), Mo Alie-Cox (33 percent owned), Laviska Shenault Jr. (24 percent owned) and Tim Patrick (2 percent owned). The five players below are the most enticing waiver wire pickups of the week. 
Scotty Miller (WR) – Tampa Bay Buccaneers (16 percent)
As long as Chris Godwin is sidelined, Miller is a capable WR3/4 each and every week in fantasy football. He has served as Tom Brady's main deep threat option as Mike Evans mans the middle of the field. In their week four victory over the Chargers, the speedy receiver caught five of his seven targets for 83 yards and a touchdown. The second-year-pro has now produced more than 11 PPR Fantasy Points three out of the four games this season. If he's available, he would be a decent waiver wire add if you need depth at the receiver position. Miller produced 19.3 PPR Fantasy Points in week four, but don't expect that every week out of him, especially when Chris Godwin returns. For now, he will serve as a reliable WR3/4 option for your fantasy teams. If you have players on their bye weeks and need a fill in, Miller could be your guy. This week, he is battling a hip and groin injury, and he is questionable to play against the Chicago Bears on Thursday Night Football. If he plays, don't expect too much against a Bears secondary that has only given up the fourth fewest fantasy points to wide receivers this season. 
Tre'Quan Smith (WR) – New Orleans Saints (27 percent)
When Michael Thomas originally went down with a high ankle sprain in week one, Emmanuel Sanders was expected to fill the WR1 void nicely. Although he has come on strong the past couple of weeks, so has Smith. In New Orleans' week four win over the Detroit Lions, Smith caught all four of his targets for 54 yards and two touchdowns. This marks three straight weeks of at least four passes caught by the 24-year-old receiver. If Thomas sits out week five, Smith should be a great fill-in receiver for a fantasy team that needs to replace an injured player, or needs to replace a player on their bye week. Since Thomas went down with his injury, Smith has caught more passes (13) than Sanders has (11). Expect a similar outcome this week against the Chargers if Drew Brees' top target can't make it back onto the field. Although the Chargers rank in the middle of the league against the pass, they are coming off a week four loss to the Tampa Bay Buccaneers where Tom Brady threw for five touchdown passes. This week might turn out the same for a Saints offense that seems they have finally found their ways in the passing game. Smith should put up decent WR3/4 numbers while Thomas is out. If the All-Pro receiver is back, don't expect much from the third-year-pro. 
Robert Tonyan (TE) – Green Bay Packers (30 percent)
In weeks two and three, Tonyan caught a touchdown in each of the Packers games, respectively. He hauled in seven catches for 75 yards in those two weeks as well. In week four, he had a MONSTER performance. In a game where both Allen Lazard and Davante Adams sat out due to injuries, the 26-year-old tight end came up big for the Packers' offense. Aaron Rodgers targeted him six times and completed all six of those passes. Three turned into touchdown connections as Tonyan finished the day with six catches for 98 yards, three touchdowns and 33.8 PPR Fantasy Points. He became just the third Packers tight end in the franchise's history to have three receiving touchdowns in one game. It's safe to say that weeks two (10.5 points) and three (16.0 points) weren't flukes and that Tonyan is a sure TE1 in fantasy leagues. Once Adams returns from a lingering hamstring injury, Tonyan's production will slowly decrease. But it's safe to say that he has established himself as one of Rodger's top targets inside the red zone. Through four weeks, Tonyan is tied for the league lead in receiving touchdowns with five. He's also second among fantasy tight ends in total points (60.3) behind only Travis Kelce (65.7). This week, the Packers have a bye, but expect Tonyan to be a reliable tight end the rest of the season. 
Damien Harris (RB) – New England Patriots (31 percent)
Before the Patriot's matchup against the Chiefs on Monday Night Football, it was announced that Sony Michel was placed on the IR and Harris was active. Harris filled in Michel's role nicely as he turned 17 rushes into 100 yards on the ground. He out touched both Rex Burkhead (12) and James White (10) in his return from injury. Before the start of the season, the second-year-pro was in the middle of a heated battle with Michel for the lead running back spot on the team. He then injured his pinky finger and was placed on the short-term IR list to start the season. Although he only produced 10 PPR Fantasy Points in his first game back, 100 yards on the ground is a promising sign for fantasy owners. Michel will be out at least three weeks, so expect Harris to receive the bulk of his touches while he is sidelined. Running backs are usually thin in fantasy leagues, so Harris is a waiver wire must for teams in need of depth at the position. With White back in the lineup and Burkhead playing well out of the backfield, don't expect the second-year-pro running back to be heavily involved in the passing game. He will line up against a Denver defense this week that has given up the third fewest points to fantasy running backs this season. This will be a true test as to how productive Harris will be with Michel out. 
Tee Higgins (WR) – Cincinnati Bengals (33 percent)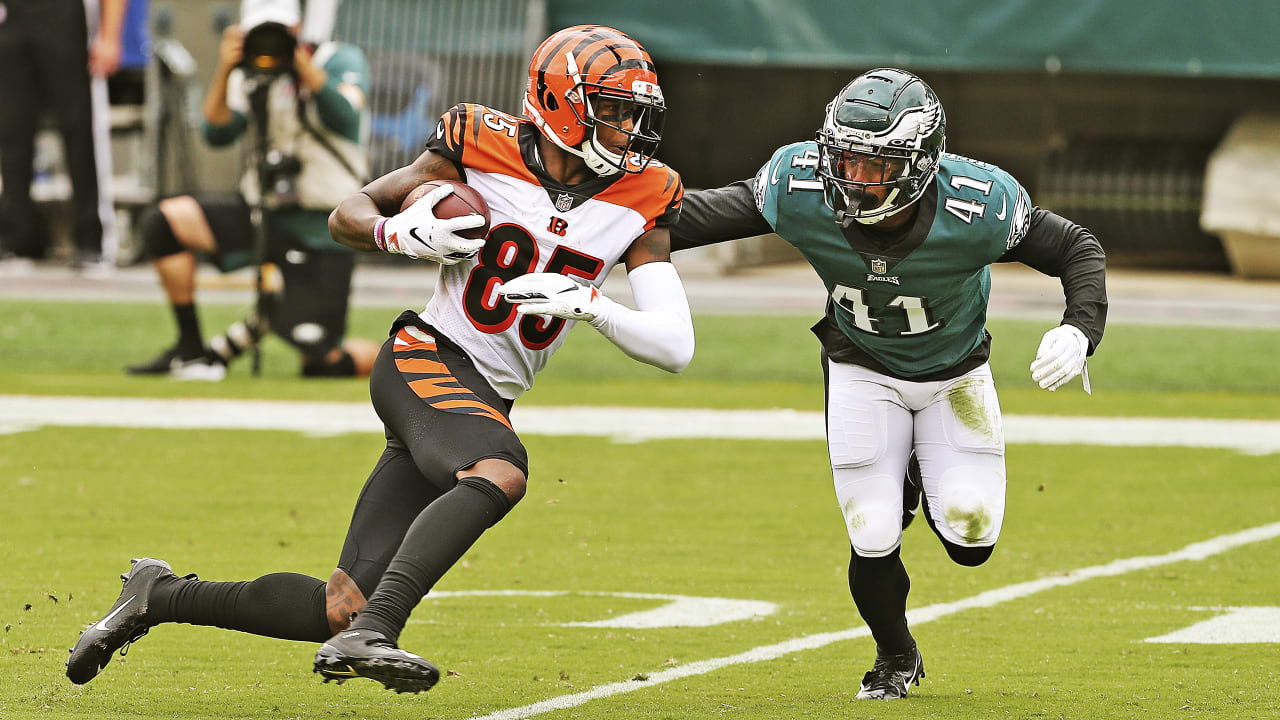 The rookie receiver has taken over as a reliable WR3/4 in fantasy leagues the past couple of weeks. In both weeks three and four, Higgins has produced double-digit fantasy points. He's coming off of 21 PPR Fantasy Points in week three and 13 PPR Fantasy Points in week four. In the past three weeks alone, he has been targeted 22 times. This is good enough for a 20 percent target share. With AJ Green falling off the face of the earth, Joe Burrow has targeted both Higgins and Tyler Boyd (34 on the season) a ton. In Cincinnati's week four victory over the Jaguars, Higgins caught four of his seven targets for 77 yards. He even added a 13-yard run on a single carry as well. 90 total yards on five touches is a great outcome for someone who was supposed to start the season as Cincinnati's fourth best wide receiver on the team. Expect the rookie to be heavily involved for the rest of 2020 as Burrow seems to have a strong connection with him. In their week five matchup, Higgins and the Bengals will take on their division rival, the Baltimore Ravens. The rookie receiver is worth adding to your fantasy team, and he should produce another good fantasy outing. Baltimore has been dismal against the pass the last two weeks as they have allowed 699 passing yards. Terry McLaurin burned their secondary for 118 yards on ten catches last week, and both Tyreek Hill and Mecole Hardman produced over 70 yards and a touchdown each the week before. Expect Zac Taylor to draw up a lot of passing plays this week, so expect Higgins to see plenty of opportunities.