Are you ready for a fantasy football playoff push? These seven wide receivers NEED to be looked at as potential waiver wire pickups going into week seven. Yes, running backs are more enticing when trying to pick up a free agent player, but most of the productive running backs have been added to a roster by now. De'Andre Swift is now rostered in 76 percent of Yahoo leagues, and James White is rostered in 72 percent. Jerick McKinnon did drop down to 68 percent, and he might have a tremendous week seven as Raheem Mostert is doubtful to play. If any of those three are available, you MUST pick them up. If not, take a look at these wide receivers below. Percentages were found from data collected by Yahoo Fantasy Football leagues. 
Tim Patrick (WR) – Denver Broncos (18 percent)
The speedy wide receiver has now topped 100 yards receiving in two straight games. He has also produced double-digit fantasy numbers three games in a row (14.3, 23.3, 14.1). During his hot streak, he has caught 14 of his 19 targets for 257 yards and two touchdowns. If you aren't convinced yet, you will be. Over the last four weeks, Patrick has averaged 17.23 PPR points a game, which ranks 18th among wide receivers during that span. That average is better than Tyler Lockett (17.1), Kenny Golladay (16.13) and Odell Beckham Jr. (16.03). He has certainly established himself as the top receiving target in Denver's offense. If you pick him up, more than likely keep him on your bench this week as he faces a stout Kansas City secondary. The Chiefs have allowed the fourth fewest fantasy points to wide receivers through the first six weeks of the season. 
Keelan Cole (WR) – Jacksonville Jaguars (27 percent owned)
Four out of his first six games this season, Cole has produced double-digit fantasy outings. He has yet to score less than 8.3 PPR points, and he sits 20th in PPR Fantasy Points among all wide receivers this season. And yet, he is only owned in 27 percent of Yahoo leagues? In week six, the veteran slot receiver put on a show. He caught six of his nine targets for a whopping 143 yards (20.3 PPR points). Only rookie, Justin Jefferson, produced more receiving yards than Cole in week six (166). The Jacksonville stud receiver has proved to be a reliable fantasy player, and he should be picked up by anyone that lacks wide receiver depth on their team. He also has a great matchup this week against a Chargers' defense that's allowed the fourth most fantasy points to wide receivers in 2020. 
Christian Kirk (WR) – Arizona Cardinals (41 percent owned)
There were high aspirations for Kirk entering the 2020 season. He was coming off a season where he caught 68 passes for 709 yards and 10 touchdowns. He was supposed to take the next step this season, but he started off with just six catches for 57 yards through the first three weeks. Since then, he has come back to life. In the last three weeks, Kirk has produced 10 catches for 183 yards and three touchdowns. Those numbers aren't spectacular, but he has produced three straight double-digit PPR performances. The third-year-pro really established himself as a legitimate fantasy player last week against the Dallas Cowboys. He caught two passes for 86 yards and two touchdowns (22.6). Expect more targets and more consistent PPR point totals from here on out. Don't be shy to put him in your starting lineup this week against the abysmal Seattle Seahawks secondary. They have allowed the most fantasy points to wide receivers through the first six weeks. Think about it; they have allowed the most, and they didn't even play this past week. Pick Kirk up, start him, and enjoy the success. 
Travis Fulgham (WR) – Philadelphia Eagles (47 percent owned)
What more do you want? Last week, Fulgham caught ten passes for 152 yards and a touchdown (31.2 PPR Points). At the time, he was only owned in three percent of Yahoo leagues. Then, he produced six catches for 75 yards and another touchdown (19.5 PPR Points) this week. He is still only 47 percent owned. In the three games he has played for the Eagles this season, Fulgham has caught 18 passes for 284 yards and three touchdowns (64.4 PPR Points). Although he didn't play the first three games of the season, he still ranks 35th among fantasy wide receivers. With all the injuries occurring in Philadelphia (Alshon Jeffery, DeSean Jackson, Zach Ertz, Dallas Goedert, Jalen Reagor, etc.), you have to pick up Fulgham. There aren't many other options on that Eagles offense at this point. The Giants come to town this week for a Thursday Night matchup, and the stud Eagles receiver should have his way as he tries to extend his three-game touchdown streak. 
A.J. Green (WR) – Cincinnati Bengals (48 percent owned)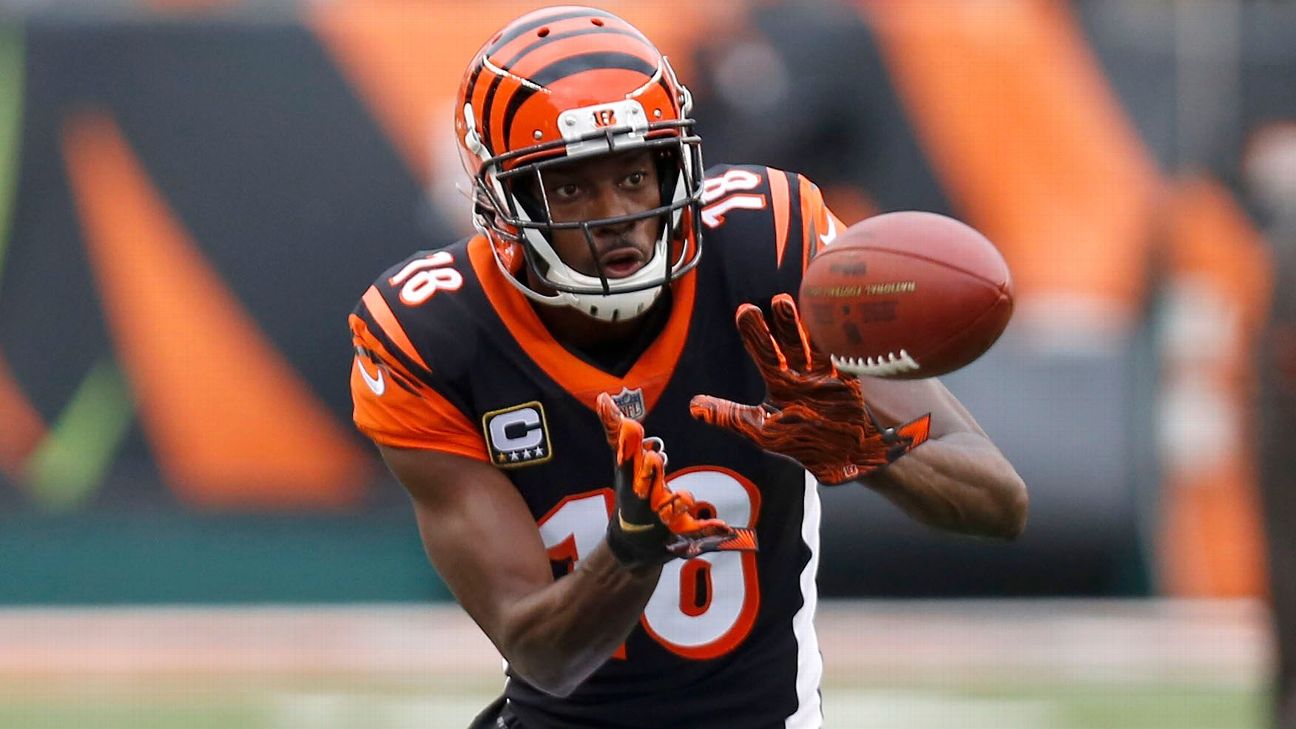 Wow, it is weird to see Green on a list like this. The last time he was featured on a waiver wire article, he was more than likely a rookie, or maybe this is even his debut. Anyways, Green deserved to be dropped last week. He also deserved to be dropped after weeks two, three, four and five. In those four weeks, Green produced a staggering 15.8 total PPR points with just nine catches for 68 yards and no touchdowns. But this is A.J. Green we are talking about. He finally broke out of his slump and caught eight of his 11 targets for 96 yards (17.6 PPR Points). He's worth picking up off waivers because of his name. If you don't utilize him on your team, you could definitely trade him to someone that will fall in love with his name and past success. 
Chase Claypool (WR) – Pittsburgh Steelers (49 percent owned)
We are all witnessing a star in the making right now. The rookie receiver from Notre Dame has been lights out the past two weeks. He has caught 11 passes for 184 yards and three touchdowns while also rushing for 13 yards and two touchdowns. A player who scores five touchdowns in a two-week span is definitely a player you MUST try and pick up off of waivers. More than likely, this will be your last chance to pick Claypool up as he now ranks 15th among all fantasy wide receivers in total PPR points. Expect more of the same this week against a Titans defense that hasn't looked particularly great against the pass this season. 
Tee Higgins (WR) – Cincinnati Bengals (52 percent owned)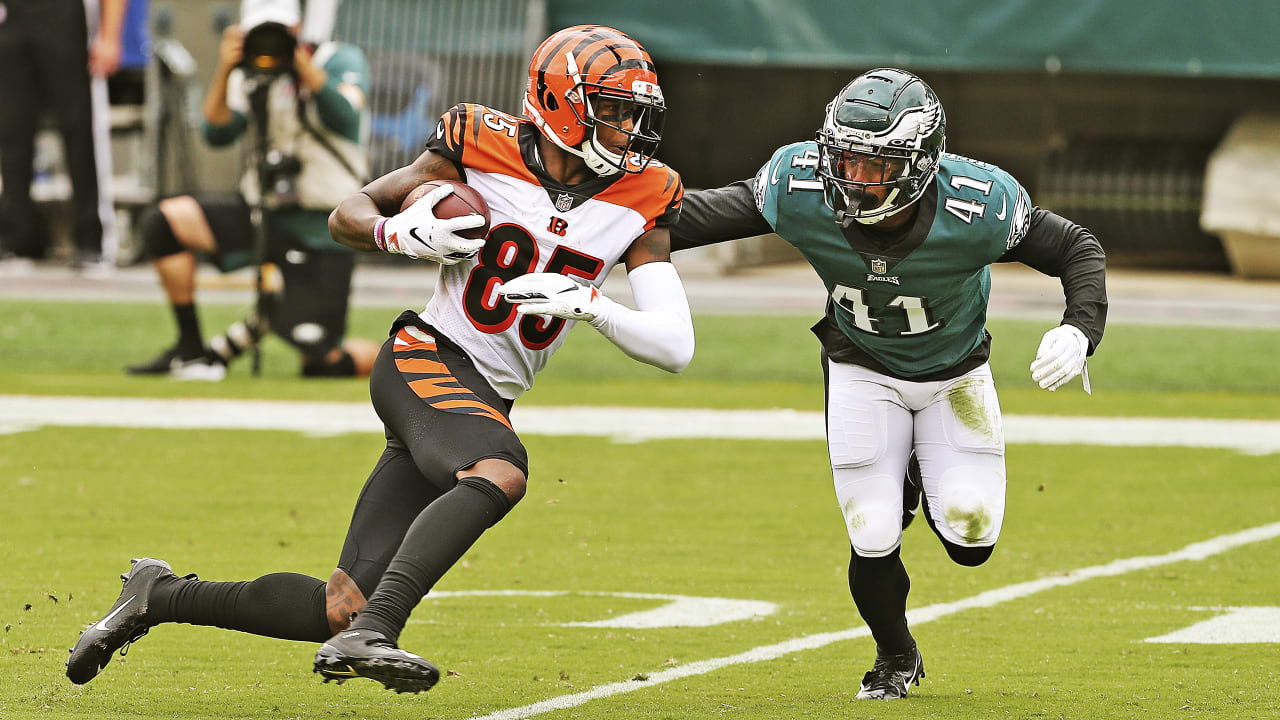 Through six weeks, the rookie receiver out of Clemson ranks 31st among all fantasy wide receivers in total PPR points. In the last four weeks, he ranks 12th. Yet, he is only rostered in 52 percent of Yahoo leagues. Yes, A.J. Green and Tyler Boyd are also on the team, but Higgins has produced four straight double-digit PPR point performances. During that span, he has caught 19 passes (19th among wide receivers) for 304 yards (12th) and two touchdowns (tied for 13th). If it weren't for Justin Jefferson having the year that he has had, Higgins and Chase Claypool would make a run for offensive rookie of the year. Expect Higgins' four game double-digit PPR point performance streak to continue this week as him and his Bengals take on a Browns defense that has allowed the second most fantasy points to wide receivers this season.