Last week, every player on the waiver wire pickup list was a wide receiver. Although receivers are necessities in fantasy football, running backs are vitally more important. They are a lot harder to replace, and there aren't a ton in the league that produce each and every week. Many fantasy owners are constantly looking to add more running back depth to their team as the season goes on. Below are six running backs that will play pivotal roles next week, and they all have the potential to break out as the season goes on. If you see any of these players in your free agency, look at them, research them and strongly consider picking them up through waivers. 
Wayne Gallman Jr. (RB) – New York Giants (2 percent)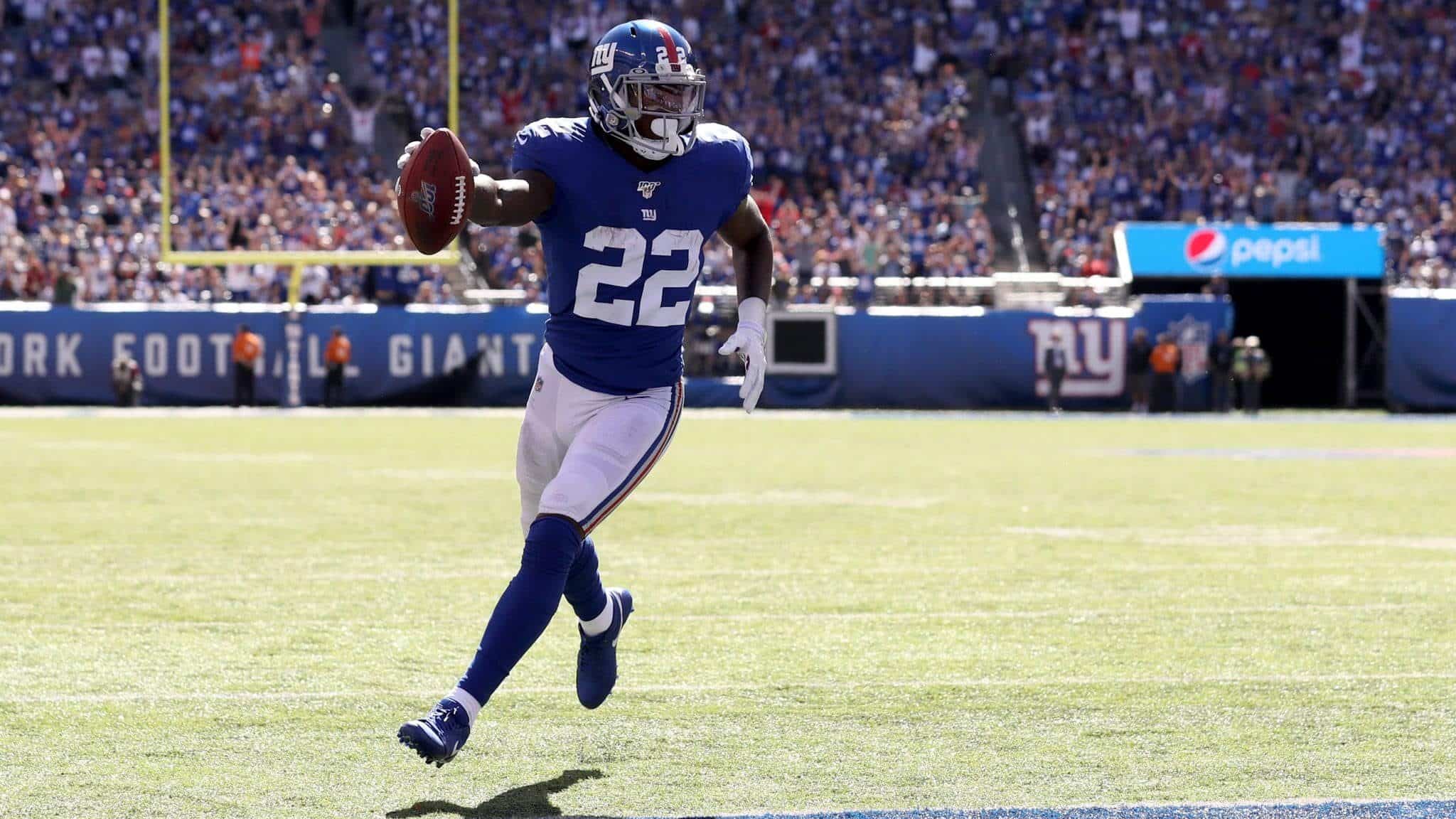 Likely to receive his sixth career start next week in his fourth season in the league, Gallman Jr. showed that he deserved to start after his performance in week seven. Devonta Freeman went down with an ankle injury early in the game against Philadelphia, and Gallman Jr. received his shot on the field. He was terrific in both the run and receiving game. The fourth-year-pro carried the ball 10 times for 34 yards and a touchdown while also adding five receptions for 20 yards. This performance was good enough for 16.4 PPR Fantasy Points, which ranked him 14th among all running backs on the week. If Freeman is declared ineligible to play in week eight, Gallman Jr. should see plenty of touches and plenty of fantasy value. 
Carlos Hyde (RB) – Seattle Seahawks (12 percent)
Chris Carson is injured once AGAIN. It seems like he can never stay healthy, but it does help that Seattle has a veteran running back in Hyde to slip into their starting lineup. Carson suffered a mid-foot sprain, and he is considered week-to-week at this point. In the meantime, if Hyde is available in your leagues (he should be), submit a waiver claim on him immediately. After Carson went down in the game against Arizona, Hyde rushed for 68 yards on 15 attempts, and he scored a rushing touchdown. He also caught three passes for eight yards. He ranked 11th among all fantasy running backs in week seven with 16.6 PPR Fantasy Points. Expect at least 11 fantasy points next week against the San Francisco 49ers. 
Giovani Bernard (RB) – Cincinnati Bengals (59 percent)
Early indications show that Joe Mixon could miss several weeks with a foot injury. In comes the mustache man, Giovani Bernard. He made his first start of the season last week against the Cleveland Browns. On 13 carries, he rushed for 37 yards, but most of his production came as a receiver. Bernard caught all five of his passes for 59 yards and a touchdown. He also finished seventh among all fantasy running backs in total points last week (20.6). Expect a lot more touches from Bernard while Mixon misses time nursing his injured foot. Tennessee should serve as a decent matchup, for the veteran back, as they are coming off a game where James Conner rushed for 82 yards on 20 attempts against them. Expect slightly less production in the running game from Bernard but a lot more production in the receiving game. 
Chase Edmonds (RB) – Arizona Cardinals (64 percent)
Edmonds has been one of the more impressive back-ups in the league this season. Prior to week seven, Edmonds had 118 rushing yards on 24 attempts (4.9 yards per carry) and a touchdown. He also came into week seven with 19 catches for 135 yards and two touchdowns. Then, Arizona starter, Kenyan Drake, went down with an ankle injury during the Cardinals' week seven matchup against the Seahawks. Drake is expected to miss several weeks due to a slight tear in one of his ankle ligaments. Arizona feels confident in his replacement as Edmonds produced 21.5 PPR Fantasy Points last week (eighth among all running backs). He only received five carries, but he turned them into 58 rushing yards. Edmonds also caught all seven of his targets for 87 yards. He will likely continue to be a force in both the running and receiving game while Drake is sidelined. He could be the most valued free agent going into week eight. 
Leonard Fournette (RB) – Tampa Bay Buccaneers (67 percent)
After a three-week absence, Fournette finally made it back to the field. Earlier last week, head coach Bruce Arians told reporters that Fournette would receive his role back right away (even though Ronald Jones had been on a tear as of late). Arians was correct as Fournette carried the ball 11 times for an even 50 yards while also catching six of his seven targets for 47 yards. He produced 15.7 PPR Fantasy Points, and he has all the talent in the world to do that every single week for the rest of the season. As long as he stays healthy, he will be worth the waiver wire claim. Strongly consider snatching Fournette from free agency as he has some favorable matchups coming up (Giants, Saints, Panthers). 
Boston Scott (RB) – Philadelphia Eagles (69 percent)
Scott may be the shortest player to ever appear on this list (5'6). He may be short, but has a lot of talent. Now that Miles Sanders will miss some time with a knee injury, Scott will start in his place and likely receive the bulk of touches at the running back position for Philadelphia. Starting in his place in week seven, Scott produced 46 rushing yards on 12 attempts, 46 receiving yards on three catches and a game-winning receiving touchdown. His tremendous performance was good enough for 18.2 PPR Fantasy Points. Expect Scott to receive the majority of carries next week against the awful Dallas Cowboys defense, but expect him to be a lot more involved in the passing game. If he's available in your leagues, he could serve as a great replacement player if you have a running back on his bye week.