This season has easily been the hardest to manage your fantasy teams. By now, you have probably faced an issue between either a COVID-19 outbreak that delayed one your players to play, or you have suffered a significant injury, or two, on your team. The key to this season is to research and do your studying on who to play and when to play them. Below are five players who should be picked up off waivers going into week six. 
Travis Fulgham (WR) – Philadelphia Eagles (3 percent owned)
If you have never heard of Fulgham, here is a little background on the second-year-pro. The Detroit Lions selected him in the sixth round of the 2019 NFL Draft out of Old Dominion. In his senior season, Fulgham broke out for 63 catches, 1,083 yards and nine touchdowns. In his rookie season with Detroit a year ago, he played in 14 games, but was only targeted three times, and he didn't catch a single pass. In fact, his first reception came a week ago against the 49ers, and he also scored on a 42-yard reception in the fourth quarter for his first career touchdown reception. This week, he produced a MONSTER performance. He caught 10 of his 13 targets for 152 yards and a touchdown. Not bad for a guy who caught his first NFL pass in week four. With Desean Jackson, Alshon Jeffery, Dallas Goedert and Jalen Reagor all battling injuries, expect Fulgham, Zach Ertz and Greg Ward to be Wentz' top targets from here on out. A week six matchup with the Baltimore Ravens will be a true test to see how much Wentz trusts Fulgham. He's worth picking up and waiting to see how productive he will be the rest of the season. With Eagles players suffering injuries all the time, it wouldn't "hurt" to keep Fulgham on your team.
Chase Claypool (WR) – Pittsburgh Steelers (17 percent owned) 
Talk about MONSTER performances. Not one, not two, not three, but four touchdowns were scored by the rookie receiver in week five. Ironically, it was against Fulgham and the Philadelphia Eagles. He became the first rookie of all-time to have three receiving touchdowns and one rushing touchdown in the same game. His explosive performance demands that he sees attention this week as a waiver wire add. Not only did he score four touchdowns, he also caught seven of his 11 targets for 110 yards while rushing for six yards on three attempts. His huge performance was good enough to top all other fantasy wide receivers in week five as he contributed 42.6 PPR Fantasy Points. Expect Claypool and Juju Smith-Schuster to be the top guys at the receiver position the rest of the season. The poor play from both James Washington and Diontae Johnson has opened up a lot more opportunity for the rookie receiver out of Notre Dame. It doesn't matter if you need a wide receiver or not, submit a waiver claim for Claypool while you can. We could be witnessing a star being born in front of our eyes. 
Mike Williams (WR) – Los Angeles Chargers (40 percent owned)
He's big, he can jump and he has lightning speed. Once Keenan Allen went down in last night's game, Williams took over as Justin Herbert's top target. He made some amazing plays down the stretch. With the game tied at 20, Herbert connected with Williams on a 64-yard touchdown pass. Later on in the game, it was tied at 27, and Chargers needed one more big play to get into field goal range, Herbert threw it up for Williams on a jump-ball play that he ended up reaching out of the sky and hauling in the pass for a 29-yard completion. Unfortunately Michael Badgley missed the 50-yard field goal, and the game went to overtime. On the last play of the game, the Chargers were down three and needed to convert on a fourth-and-six. Hebert threw a quick slant pass to Williams, and he was stopped short by a yard to end the game. Although his team lost the game to fall to (1-4), Williams showed why he deserves to be on your fantasy team. He caught five of his eight targets for 109 yards, two touchdowns and produced 27.9 PPR Fantasy Points. Allen should be fine since his injuries were related to back spasms, but Herbert seemed to have a lot more trust in Williams down the stretch. Expect more consistent play from Williams as a fantasy player as he should join Allen and Hunter Henry as Herbert's go-to targets the rest of the season. 
Brandin Cooks (WR) – Houston Texans (44 percent owned)
There were some MONSTER performances this week from fantasy wide receivers that are less than 50 percent owned in fantasy leagues. Cooks was one of these players as he made the Jacksonville Jaguars' secondary look confused all game long. Deshaun Watson connected with the seven-year-pro receiver eight times for 161 yards and a touchdown. Cooks' performance was good enough for 30.1 PPR Fantasy Points. What a turnaround from a zero-reception performance a week ago. Watson needed to find a receiver, besides Will Fuller, that he can count on all game. Yes, Kenny Stills and Randall Cobb are still on the team, but they have never possessed the stardom stature that Cooks developed with the Saints, Patriots and Rams. From here on out, expect Cooks and Fuller to be the two top targets for Watson the rest of the season. Now that Bill O'Brien is out of town, expect Cooks, Watson and the rest of the Houston offense to look different in a good way. It wouldn't hurt to submit a waiver claim on Cooks as he looks to have developed a strong connection with his quarterback. 
Teddy Bridgewater (QB) – Carolina Panthers (55 percent owned)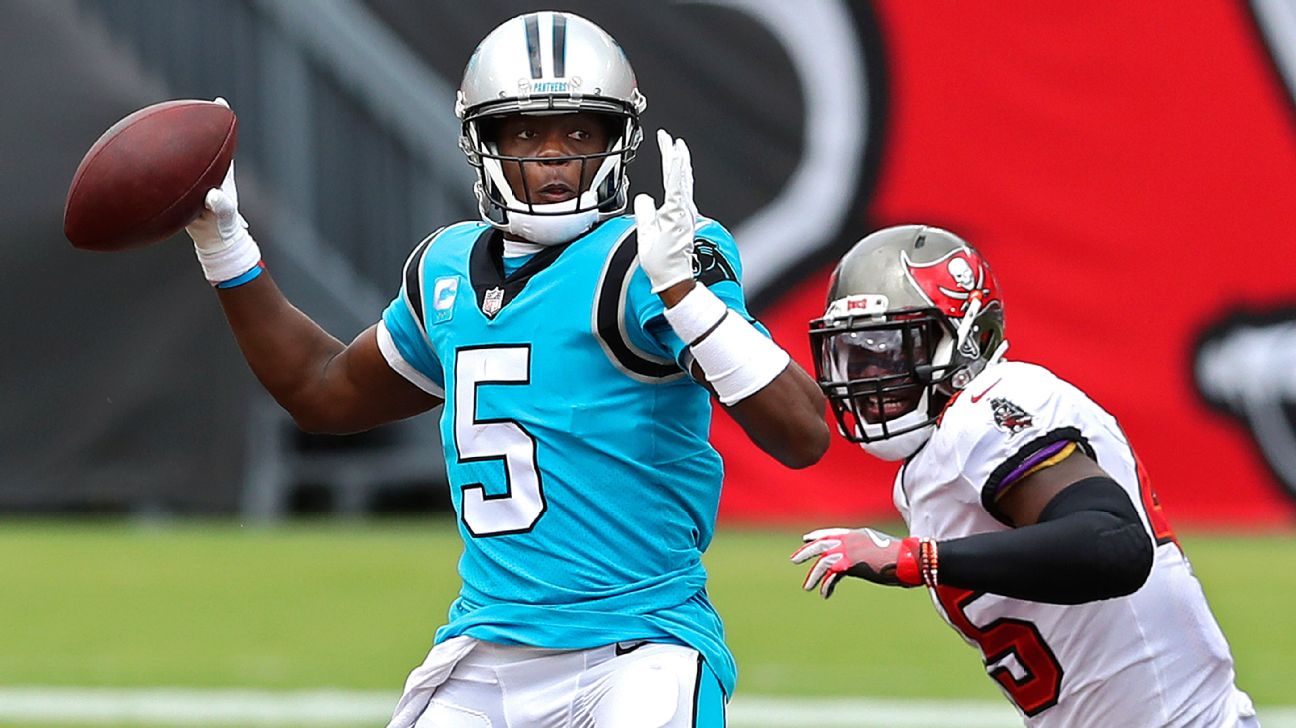 Finally, a player that is not a wide receiver on this list. The quarterback position is a hard one to manage in fantasy football unless you have Patrick Mahomes, Lamar Jackson, Russell Wilson, Kyler Murray, Josh Allen, Cam Newton or even Aaron Rodgers. Dak Prescott went down with a gruesome ankle injury that will keep him out for the rest of the season. We've seen inconsistent play from Tom Brady, Matt Ryan and even Deshaun Watson this year. Some of you aren't getting the production you need at the quarterback spot. If you need help at the position, take a look at Bridgewater, and maybe even submit a waiver claim if he is available in your league(s). He is only the QB18 as of right now, but he has produced at least 20 fantasy points the last two weeks. Through five games with Carolina, his team is (3-2), but they have managed to win three straight. Him and his Panthers now sit at a three-way tie with New Orleans and Tampa Bay for first place in the NFC South Division. Expect Bridgewater to put up around 20 points the rest of the season. He is an enticing quarterback to have for your fantasy team(s) because he is a mobile quarterback, he has weapons in Robby Anderson, DJ Moore, Curtis Samuel, Mike Davis, Christian McCaffrey (injured) and he even has a great offensive line protecting him. If you need quarterback help, Bridgewater could be your guy.